Categories
By Ingredient
Special Occasions
More Links
Salad Shirazi, Persian Tomato Cucumber Salad
Posted on 2010-05-06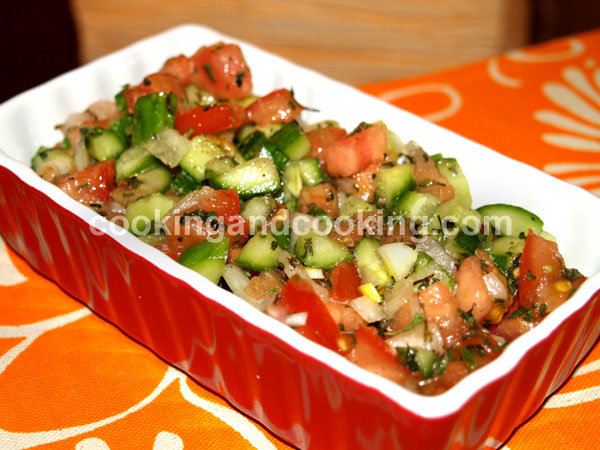 Salad Shirazi or Salad e Shirazi is a popular Persian salad and can be served as a side dish with many rice and meat dishes. Salad Shirazi is an easy and healthy salad recipe which is perfect for any occasion.

Print
---
Yield: Serves 4
INGREDIENTS
3 cups peeled (or unpeeled) and small diced cucumber
2 1/2 cups small diced tomato
4 tablespoons extra-virgin olive oil
5-6 tablespoons lemon juice (you can add more)
1 small onion, diced
3 tablespoons dried mint
salt & black pepper to taste
INSTRUCTIONS
In a bowl, place the cucumber, tomato and onion. Add the dried mint, lemon juice, olive oil, salt and black pepper. Gently toss together. Taste and adjust seasoning. Serve at room temperature.
Note: Please do not use our photos without prior written permission. Thanks!

Print
You might also like these...

Stay In Touch