Categories
By Ingredient
Special Occasions
More Links
Rice with Cilantro and Chicken Recipe
Posted on 2015-08-12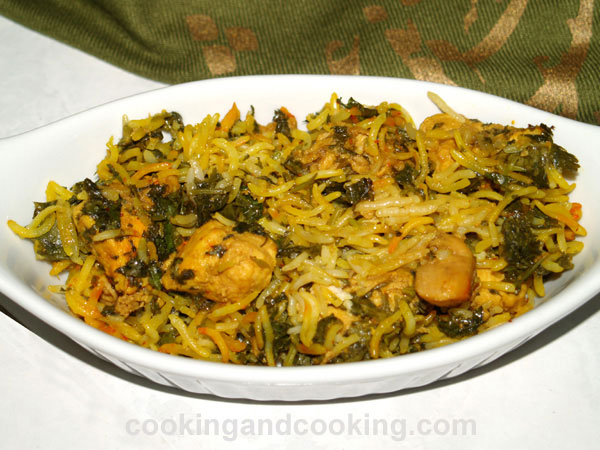 Are you tired of making the same old mixed rice? Try this rice with fresh cilantro, dried parsley, chicken, cumin and pomegranate paste. Rice with Cilantro and Chicken is a tasty mixed rice recipe that your whole family will enjoy.

Print
---
Yield: Serves 5
INGREDIENTS
2 cups uncooked rice
850-900 g boneless & skinless chicken breast or thigh, cut into 1 inch pieces
1/2 cup pomegranate paste or concentrated pomegranate (you can find it at any Iranian store)
4 cups finely chopped fresh cilantro
1/4 cup dried parsley
1 large onion, finely chopped
1 teaspoon turmeric powder
2 teaspoons ground cumin
ground saffron
vegetable oil
salt & black pepper to taste
thin bread, I used pita bread
INSTRUCTIONS
Place the rice in a large bowl; pour lukewarm water, stir and pour off the water. Repeat four times until water runs clear. Then soak rice in salted (with 1-2 tablespoons salt) lukewarm water for an hour.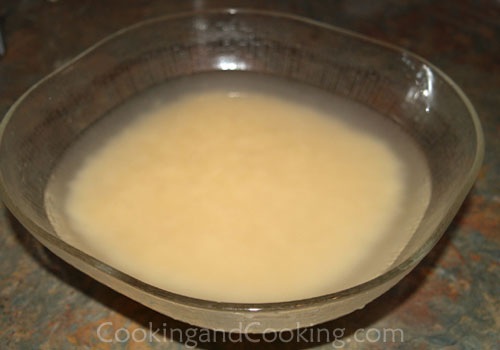 Meanwhile, heat 3 tablespoons oil in a pot over medium heat. Add the onion and saute until golden. Increase heat to medium-high. Add the chicken and saute until no longer pink, stirring occasionally. Add the turmeric powder and stir gently. Add 1/2 cup warm water and bring to a boil.
Reduce heat to medium and cook covered until chicken is completely cooked. Add the pomegranate paste, cumin, salt and pepper. Stir well, taste and adjust seasonings. Set aside.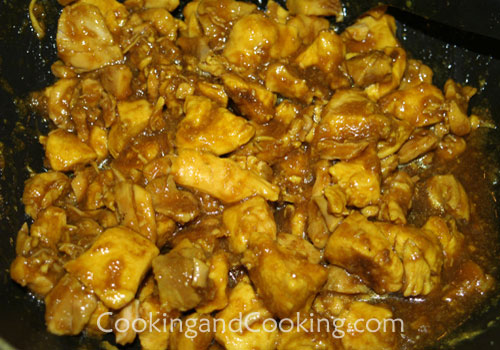 Drain the soaked rice and set aside. Pour water in a large non-stick pot (until it is 3/4-full), add 1 tablespoon salt and bring to a boil over high heat. Add rice to the boiling water and cook uncovered until rice is a little tender (not quite tender) about 4 minutes, stirring once or twice. Remove from the stove; drain the rice in a colander.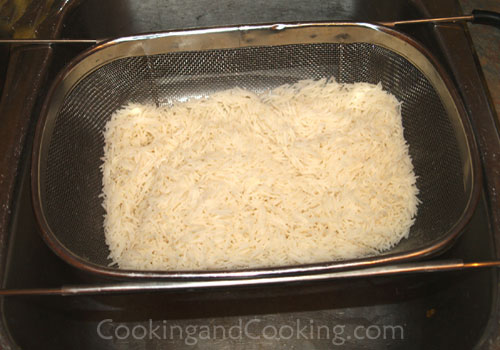 Pour 3 tablespoons oil in the non-stick pot. Place a layer of thin bread in pot; it should cover the bottom of the pot.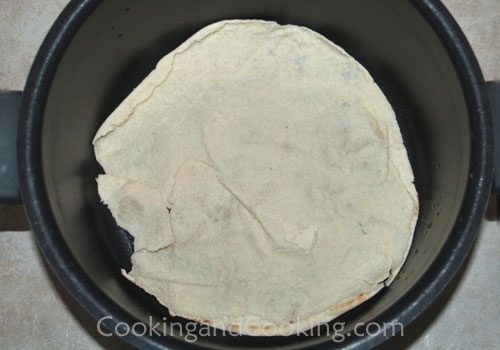 Place a layer of the rice over the bread. Then place a layer of the chicken on the rice.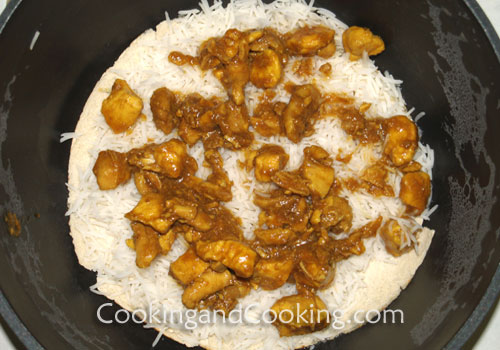 Sprinkle 1-tablespoon dried parsley and a layer of cilantro over. Sprinkle with 1/8 teaspoon saffron.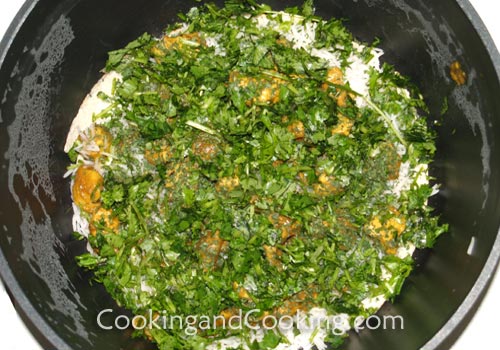 Keep layering until all the rice, chicken, cilantro and parsley are used (be generous with saffron ;)). Mix a little and make a nice mound in the middle.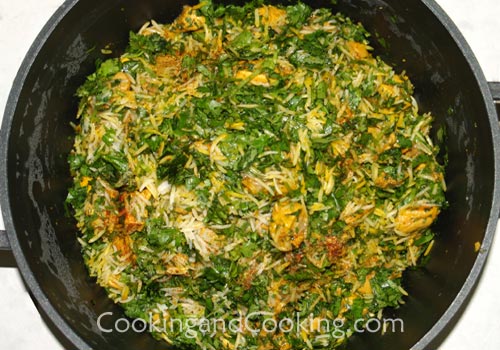 Using handle of a wooden spoon, make deep holes in rice. Pour 1/3 cup water and 5 tablespoons oil over the rice. Sprinkle with 1/4 teaspoon saffron.
Put the lid on and cook over medium-high heat until it begins to steam (about 4-5 minutes). Then wrap a kitchen towel around underside of the pot lid, making sure it is secured on top and away from heat.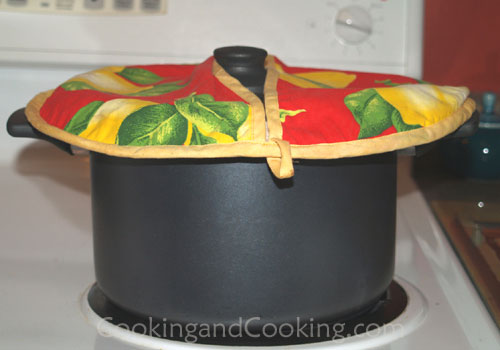 Reduce the heat to low and cook for approximately 35-45 minutes. Don't overcook, you don't want the rice to become too mushy.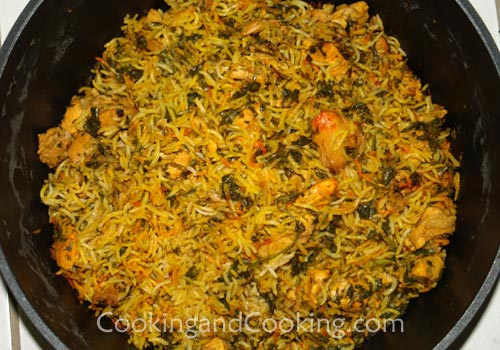 When cilantro rice is ready, remove from the heat. Wet a towel with cold water and place the pot on the wet towel for a few moments (it helps to release Tah-deeg (crispy bread) from the bottom of pot). Transfer the cilantro and chicken rice to a serving dish (optional: pour the melted butter over the rice).
For Tah-deeg (crispy bread); carefully remove the crusty bottom with a spatula in one whole piece.
Note: Please do not use our photos without prior written permission.
Thank you!

Print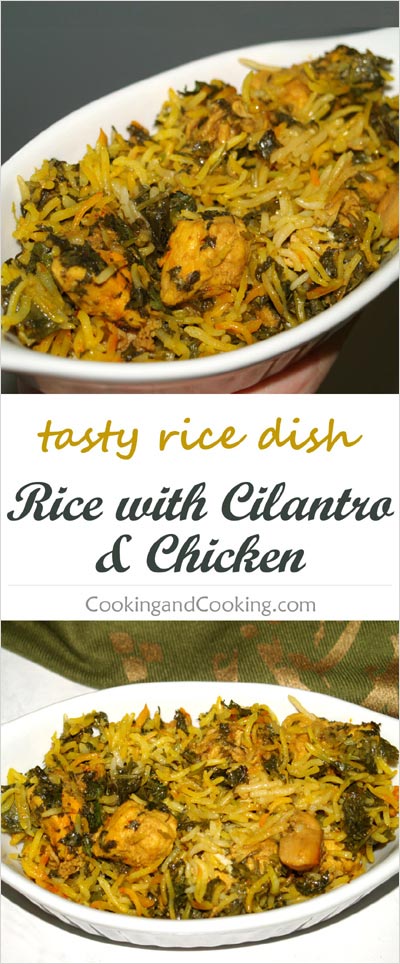 You might also like these recipes...
Stay In Touch
Join my Telegram Channel