Categories
By Ingredient
Special Occasions
More Links
Red Lentil Coconut Soup
Posted on 2016-09-08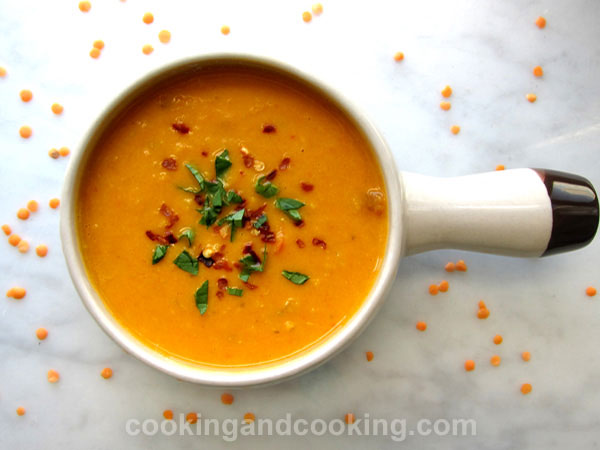 If you like lentil, then you will love this red lentil coconut milk soup. This red lentil soup is simple and delicious, starting with a base of chopped onions, garlic, celery, and carrots, than add the red lentil, stock, coconut milk, and seasonings. Cook until done and blend a little at the end, and you have a perfect thick, smooth and satisfying soup.

Print
---
Yield: Serves 4-5
INGREDIENTS
2 carrots, peeled and diced
2 celery ribs, diced
1 small onion, finely chopped
2 garlic cloves, minced
2 cups red split lentils, rinsed until water runs clean
1 tomato, diced
1/2 cup crushed tomatoes
5 cups chicken broth or vegetable broth
1 1/2 cups coconut milk
1 cup water
1 teaspoon turmeric powder
1 teaspoon ground cumin
2 tablespoons vegetable oil
2 tablespoons lemon juice
salt & pepper to taste
fresh basil for garnish
red pepper flakes for garnish
INSTRUCTIONS
Saute carrots, onion, garlic, and celery with 2 tablespoons vegetable oil in a pot over medium heat until tender, about 20 minutes. Add turmeric and cumin and saute for 3-4 minutes.
Then add red lentils, chicken broth, water, diced tomatoes, crushed tomatoes, coconut milk, salt and pepper. Cover the pot and bring to a boil. Reduce heat to medium and simmer for 25-30 minutes, until lentils are tender.
Remove the soup from the heat. Puree half of the soup in a blender until smooth. Return the pureed half of the soup back to the pot and mix well. Add the lemon juice and cook for 10 minutes. If soup is too thick, add more water. Garnish with basil and red pepper flakes and serve warm.
Note: Please do not use our photos without prior written permission. Thanks!

Print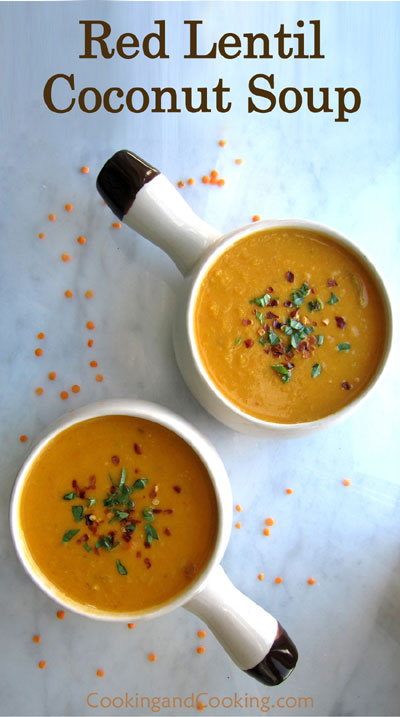 You might also like these...
Stay In Touch