Categories
By Ingredient
Special Occasions
More Links
Quinoa Salad
Posted on 2011-09-22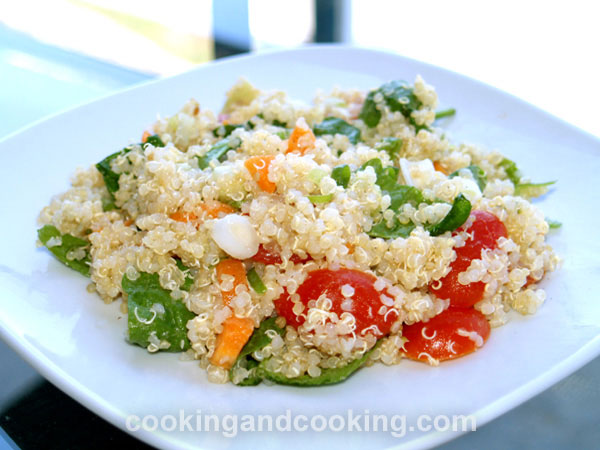 If you are looking for a unique recipe, try this Quinoa Salad. This is a very easy vegan dish.

Print
---
Yield: Serves 4
INGREDIENTS
1 cup quinoa
2 cups water
1 cup (about 160 g) grape tomatoes, halved
2 garlic cloves, minced
1 cup (about 20 g) washed baby spinach
2 scallions (about 3/4 cup), washed and sliced
1/2 cup carrot, diced
4-5 tablespoons lemon juice
3 tablespoons extra-virgin olive oil
salt & black pepper to taste
INSTRUCTIONS
In a small saucepan, bring water to a boil. Add quinoa and give it a quick stir. Cover the saucepan, reduce heat to low and simmer for 15-16 minutes, or until the quinoa is tender and the water has been absorbed. Remove from heat and let stand 5 minutes. Then fluff with a fork. Allow it to cool to room temperature.
Meanwhile, in a small bowl, whisk together the garlic, olive oil, lemon juice, pepper and salt. Set the dressing aside.
In a large bowl, combine grape tomatoes, carrots, scallions and spinach. Stir in quinoa. Pour the dressing over the quinoa mixture and toss. Taste and adjust seasonings. Serve at room temperature.
Note: Please do not use our photos without prior written permission. Thanks!

Print
You might also like these...
Stay In Touch