Categories
By Ingredient
Special Occasions
More Links
Quick Orzo Salad
Posted on 2014-10-24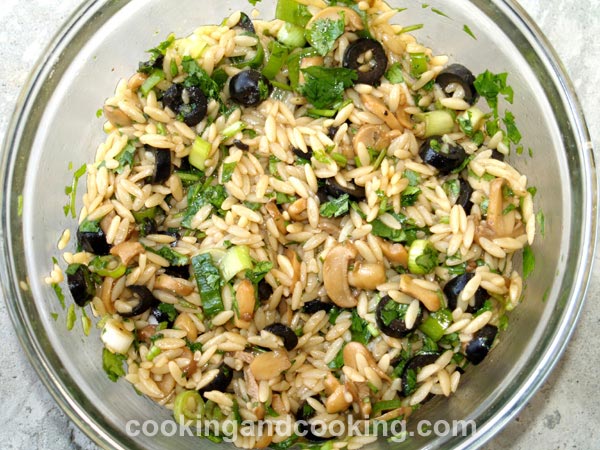 If you are looking for a really tasty, and quick pasta salad recipe, try this veggie orzo salad recipe. Orzo salad is made with black olive oil, coriander, green onion, mushroom, balsamic vinegar and soy source. This orzo salad is an ideal summer side dish for any potluck or picnic.

Print
---
Yield: Serves 3-4
INGREDIENTS
1 1/3 cups orzo pasta
1 cup thinly sliced green onion
1 cup sliced black olive
1 can (284 ml - about 1 cup) sliced mushrooms, drained
1 cup chopped fresh coriander
2 tablespoons soy sauce
1 tablespoon lemon juice
2-3 tablespoons olive oil
3 tablespoons balsamic vinegar
black pepper to taste
INSTRUCTIONS
Bring a pot of salted water to a boil. Add the orzo and cook uncovered, over high heat until al dente, cooked through but still a bit firm, stirring occasionally (or cook the orzo according to the package directions). Drain the orzo in a colander and rinse with cold water. Set aside.
Toss the pasta with the olive oil in a large bowl. Add the rest of ingredients to the bowl. Gently toss together. Taste and adjust seasonings. Chill for an hour before serving.
Note: Please do not use our photos without prior written permission. Thanks!

Print
You might also like these...
Stay In Touch