Categories
By Ingredient
Special Occasions
More Links
Potato and Ham Salad
Posted on 2010-03-08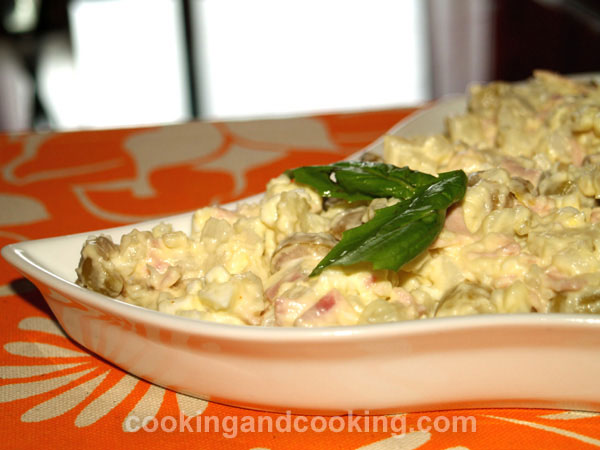 Potato and Ham Salad is a perfect salad recipe or even side dish. It's easy to make and a great way to use the leftover ham.

Print
---
Yield: Serves 4-5
INGREDIENTS
4 medium potatoes, washed
3 eggs
2 tablespoons extra-virgin olive oil
3-4 tablespoons lemon juice
150 g slices cooked ham, cubed
1 cup sliced green olives (if olives are salty, soak them in the cold water for 15-20 minutes and then drain)
2/3 cup mayonnaise
2 tablespoons yogurt
salt & pepper to taste
INSTRUCTIONS
Put the potatoes into a pot and pour water until potatoes are covered. Add salt and bring to a boil. Reduce heat to medium and simmer covered until done - a fork can easily be poked through them. Drain water from potatoes. Peel the potatoes and finely chop them. Set aside.
Cook the eggs. Peel and finely chop them.
In a large bowl, combine the potatoes, eggs, olive oil, ham, sliced green olives, lemon juice, mayonnaise and yogurt. Season to taste with salt and pepper. Mix well and chill the potato and ham salad in the refrigerator. Serve with French bread.
Note: Please do not use our photos without prior written permission. Thanks!

Print
You might also like these...
Stay In Touch