Categories
By Ingredient
Special Occasions
More Links
Persian Tomato Omelet
Posted on 2011-02-17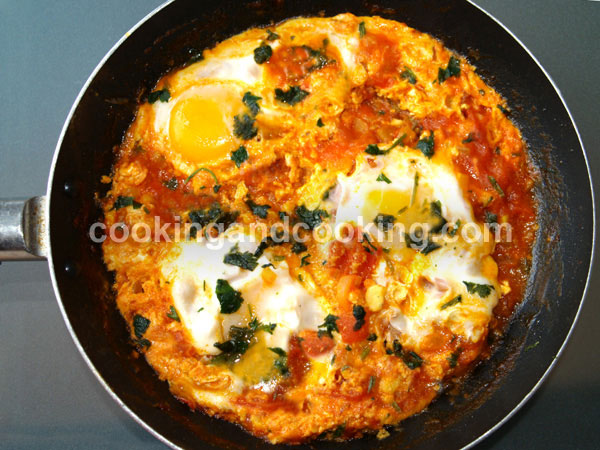 Persian Tomato Omelet is a simple breakfast recipe and different than the other kind of omelets. It is so delicious and would be perfect if served with Lavash bread.

Print
---
Yield: Serves 3
INGREDIENTS
3 medium ripe tomatoes, finely chopped
3 garlic cloves, finely chopped
1 small onion, finely chopped
3 tablespoons olive oil
3 eggs
1/4 teaspoon turmeric powder
3 tablespoons crushed tomatoes (if you use Persian crushed tomatoes, use less)
salt & black pepper to taste
finely chopped fresh coriander for garnish, optional
INSTRUCTIONS
Heat the olive oil in a frying pan over medium heat. Add onions, saute until tender and slightly golden. Add garlic and saute for two more minutes, stirring occasionally. Add turmeric powder and mix well.
Then Add chopped tomatoes and crushed tomatoes, season with salt and black pepper; cook until tender and almost all the liquid is absorbed, stirring occasionally.
Crack the eggs over the tomato mixture. Reduce the heat to medium-low, cover the pan and cook until the eggs are set. Sprinkle chopped coriander and cook uncovered for two more minutes. Serve immediately with bread.
Note: Please do not use our photos without prior written permission. Thanks!

Print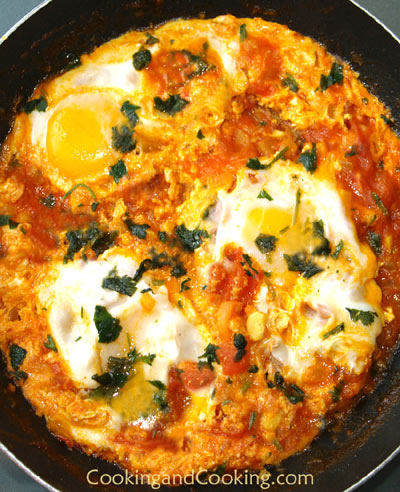 You might also like these...
Stay In Touch