Categories
By Ingredient
Special Occasions
More Links
Persian Stuffed Eggplant with Ground Beef
Posted on 2017-08-18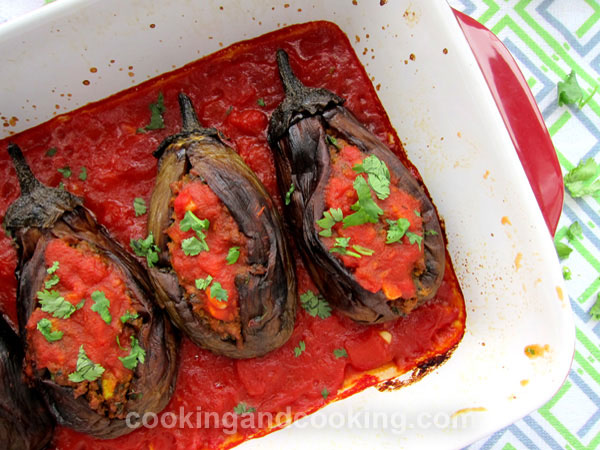 Here is an impressive Persian recipe for stuffed eggplant. Persian stuffed eggplant (or bademjan shekam por) is an open-faced fried eggplant stuffed with ground beef, garlic, crushed tomato, fresh parsley and spices, and baked in a rich tomato sauce.

Print
---
Yield: Serves 6
INGREDIENTS
9-10 small Italian eggplants, each 6 inches in length
480 g extra lean ground beef
1 large onion, finely chopped
1 1/4 cups crushed tomatoes
5 garlic cloves, finely chopped
2 cups chopped fresh parsley
1 teaspoon turmeric powder
1 teaspoon dried oregano
1/2 teaspoon ground cinnamon
1/4 teaspoon nutmeg
vegetable oil
1 tablespoon lemon juice
salt & pepper to taste

For sauce:

1 cup crushed tomatoes
4 tomatoes, diced
2 garlic cloves, finely chopped
1/4 teaspoon ground cinnamon
salt & pepper
INSTRUCTIONS
Wash and peel the eggplants, keep the stems (do not cut off the stems from the eggplants). Slit the eggplants lengthwise, almost all the way down to the stem.
Preheat oven to 375 degrees F. Cover the oven rack with aluminum foil and place the eggplants on the rack in a single layer. Bake for 25 minutes. Remove from the oven.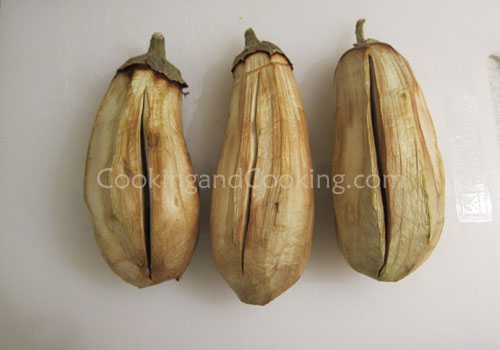 Then heat the oil in a non-stick skillet over medium-low heat. Fry the eggplants until golden brown (don't use too much oil). Place them on a paper towel to absorb the extra oil.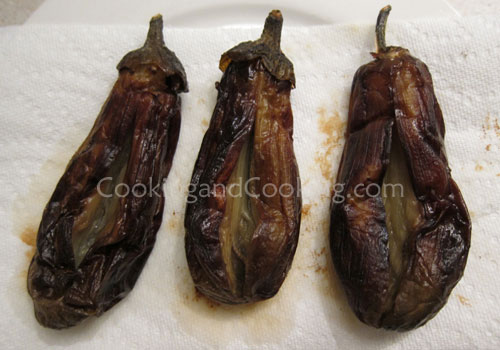 Meanwhile make the stuffing: heat 2 tablespoons oil in a skillet over medium heat. Add the onions and saute until golden. Add garlic and saute 1 minute. Increase heat to medium-high, add the ground beef and saute until no longer pink.
Reduce heat to medium, add the turmeric, cinnamon, nutmeg, 1 1/4 cups crushed tomatoes, salt and pepper. Stir well and cook for 3 minutes. Then add 1/2 cup hot water. Cover the pot and simmer over medium heat for 15 minutes. Add parsley, oregano and lemon juice. Cook for 5-8 more minutes. Adjust seasonings and set the stuffing aside.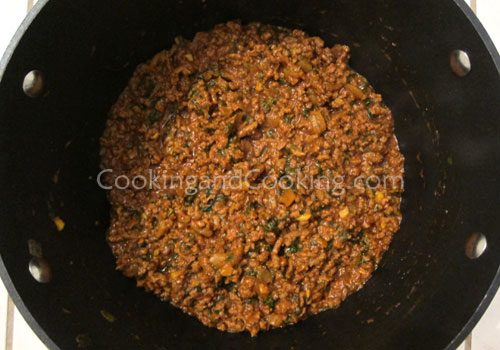 To prepare the sauce: place the crushed tomatoes, diced tomatoes, garlic, cinnamon, 3/4 cup water, salt and pepper in a saucepan. Simmer covered over medium heat until it has thickened, 5-8 minutes.
Preheat oven to 375 degrees F. Spread enough tomato sauce to coat the bottom of 2 baking dishes (reserve some of the sauce for topping).
Spoon the stuffing into the open eggplants and place them over the tomatoes sauce.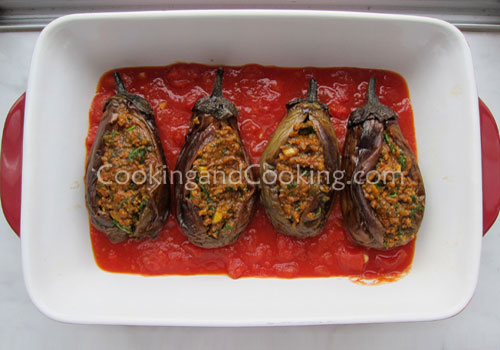 Spoon remaining sauce over each one.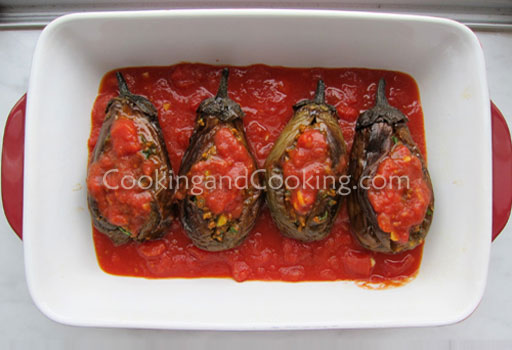 Bake in the oven for 20-25 minutes. Remove from oven, garnish with parsley and serve.
Note: Please do not use our photos without prior written permission. Thanks!

Print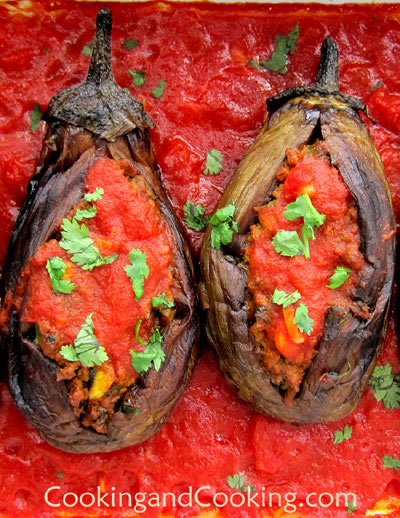 You might also like these...
Stay In Touch