Categories
By Ingredient
Special Occasions
More Links
Orzo with Sausage and Cilantro
Posted on 2016-02-22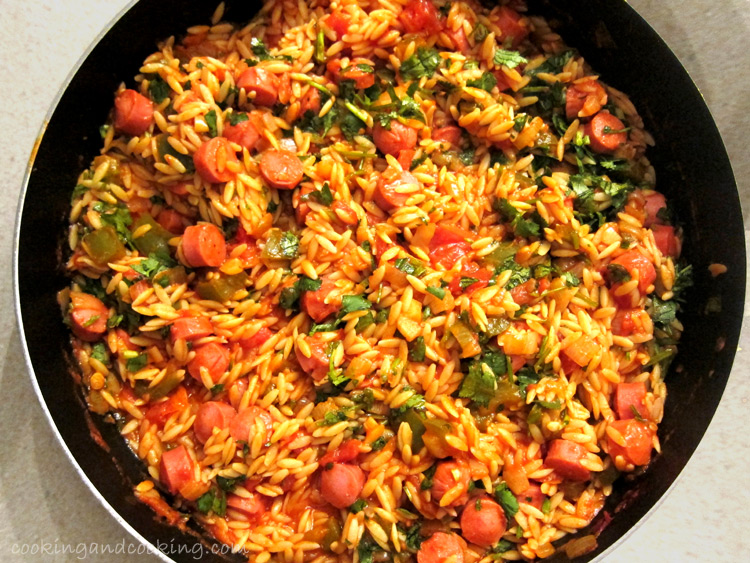 Orzo looks like rice, but it is actually a pasta. If you are looking for a quick and satisfying dinner, try this orzo dish. Orzo with Sausage and Cilantro recipe is a tasty dish made with orzo, sausage, green bell pepper, cilantro, tomato and garlic. You can use any kind of sausage you like, I used hot dog in this dish.

Print
---
Yield: Serves 3-4
INGREDIENTS
2 cups orzo pasta
375 g sausage, thinly sliced (use any kind of sausage you like)
1 onion, finely chopped
1 green bell pepper, diced
3 medium tomatoes, diced
2 cups crushed tomatoes
1 1/2 cups chopped cilantro
3 garlic cloves, finely chopped
vegetable oil
salt & black pepper to taste
INSTRUCTIONS
In a medium pot, heat 2 tablespoons oil over medium heat. Add onions and saute until slightly golden. Add sausage, bell pepper and garlic. Saute for 7-8 minutes, stirring occasionally. Add tomato, crushed tomato, 1/2 cup water, salt and pepper to taste. Cover the pot and cook for 30 minutes, stirring occasionally. Taste and adjust seasoning.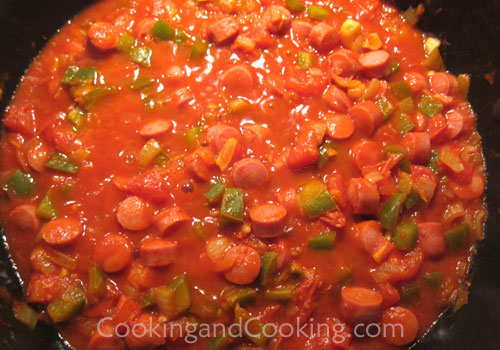 Meanwhile, bring a pot of salted water to a boil. Add the orzo and cook uncovered, over high heat until al dente, cooked through but still a bit firm, stirring occasionally (or cook the orzo according to the package directions). Drain in a colander.
Place the cooked orzo in a serving dish and spoon the sausage mixture over top. Sprinkle over the fresh cilantro and serve. Or if you prefer mix them and then serve.
Note: Please do not use our photos without prior written permission. Thanks!

Print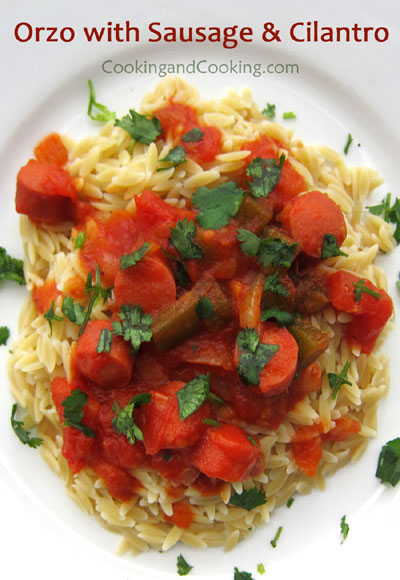 You might also like these...
Stay In Touch