Categories
By Ingredient
Special Occasions
More Links
Orzo and Vegetable Salad
Posted on 2012-11-06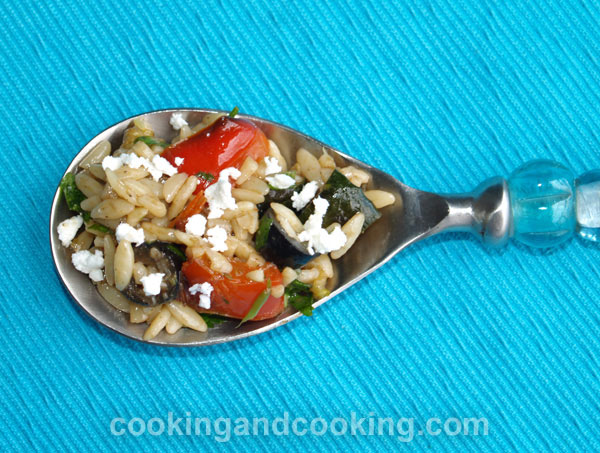 Need a vegetarian salad recipe? Orzo and Vegetable Salad is a beautiful looking veggie salad recipe, which is a perfect combination of orzo, zucchini, bell pepper, green onion, olive, fresh cilantro and crumbled feta cheese. Orzo salad is an easy and healthy vegetarian recipe.

Print
---
Yield: Serves 4
INGREDIENTS
1 cup orzo pasta
1/3 cup thinly sliced green onion
2 small zucchini
1 large red bell pepper
1/2 cup chopped fresh cilantro
1 cup sliced black olive
dried oregano leaves
olive oil for brushing vegetables
1/2 cup crumbled feta cheese

For dressing:

2 tablespoons olive oil
3 tablespoons balsamic vinegar
1 tablespoon soy sauce
salt & black pepper to taste
INSTRUCTIONS
Preheat oven to 400 degrees F. Cut the zucchini and red bell pepper lengthwise. Brush the vegetables with olive oil on both sides. Sprinkle with dried oregano, salt and black pepper.
Spread out the seasoned vegetables in a single layer onto a large baking pan (do not crowd). Bake in the preheated oven until vegetables are cooked through, about 30-35 minutes. Remove vegetables and let them cool.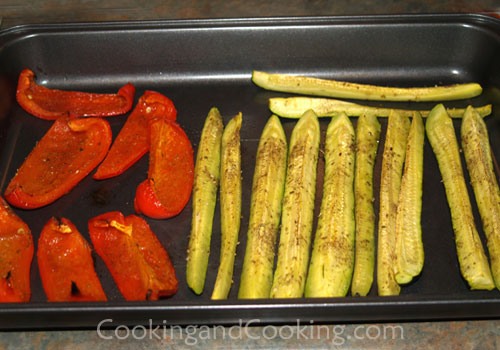 When they are cool enough to handle, cut the vegetables into bite-sized pieces and set aside.
Meanwhile bring a pot of salted water to a boil. Add the orzo and cook uncovered, over high heat until al dente, cooked through but still a bit firm, stirring occasionally (or cook the orzo according to the package directions). Drain the orzo in a colander and rinse with cold water.
For dressing, whisk the balsamic, soy sauce and olive oil in a small bowl. Season with salt and black pepper, to taste.
Place the orzo, sliced green onion, zucchini, bell pepper, chopped cilantro and black olive in a salad bowl. Pour the dressing over the salad and gently toss together. Taste and adjust seasonings.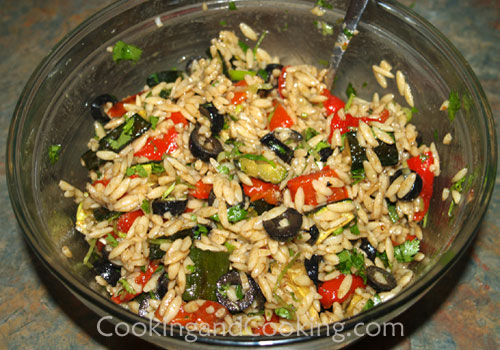 Right before serving sprinkle feta cheese on top.
Note: Please do not use our photos without prior written permission. Thanks!

Print
You might also like these...
Stay In Touch