Categories
By Ingredient
Special Occasions
More Links
Orzo and Pepperoni Casserole
Posted on 2013-02-05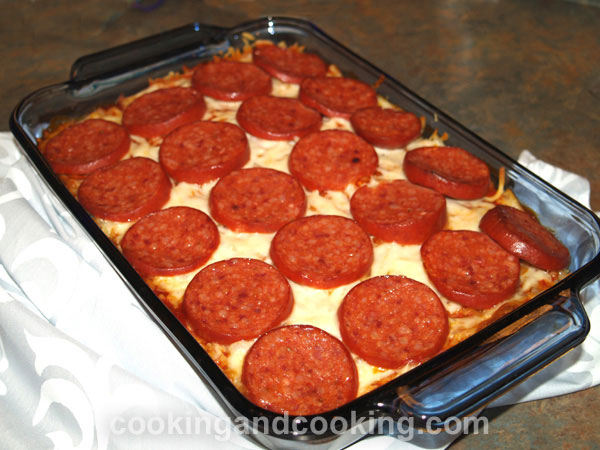 Orzo and Pepperoni Casserole recipe is a cheesy and kid pleaser recipe! This casserole recipe is a perfect combination of ground beef, orzo, pepperoni, mozzarella and ricotta cheese. It is delicious and quick dinner idea. You have to try this easy casserole.

Print
---
Yield: Serves 5-6
INGREDIENTS
300 g extra lean ground beef
1 small onion, finely chopped
1 cup orzo pasta
1 green onion, sliced
1 1/3 cups ricotta cheese
1 1/2 cups shredded mozzarella cheese
280-300 g smoked pepperoni, sliced
dried oregano leaves
1/2 teaspoon ground nutmeg
1/4 teaspoon allspice
1 teaspoon turmeric powder
1 tablespoon canola oil
1 1/2 cups pizza sauce
1/2 cup crushed tomatoes
1/2 cup ketchup
salt & pepper to taste
INSTRUCTIONS
Bring a pot of water to a boil. Add 1/2 tablespoon salt. Add the orzo and cook uncovered, over high heat until al dente, cooked through but still a bit firm, stirring occasionally (or cook the orzo according to the package directions). Drain the orzo in a colander and rinse with cold water. Set aside.
Meanwhile heat the canola oil in a pan over medium-high heat. Add the onion and saute until tender, about 3-4 minutes. Add the ground beef and saute until brown, about 6 minutes. Add the turmeric powder, ground nutmeg, allspice, 1-teaspoon of dried oregano, salt and pepper, stir well. Remove from heat and drain the excess liquid. Set aside.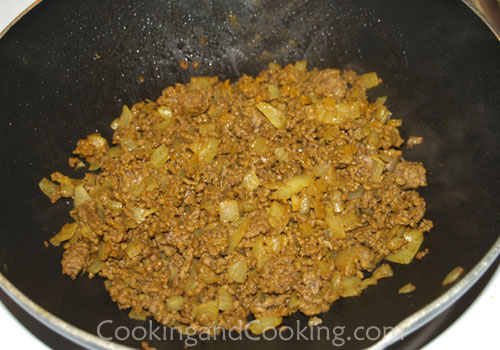 Preheat the oven to 350 degrees F.
In a small bowl, mix together the pizza sauce, crushed tomatoes, ketchup and 1/2 tablespoon of dried oregano leaves. Spread a thin layer of the mixed sauce on the bottom of an 8x11-inch baking dish.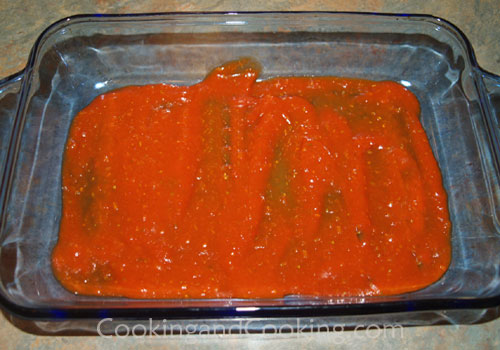 Spoon the browned ground beef over the sauce followed by green onion.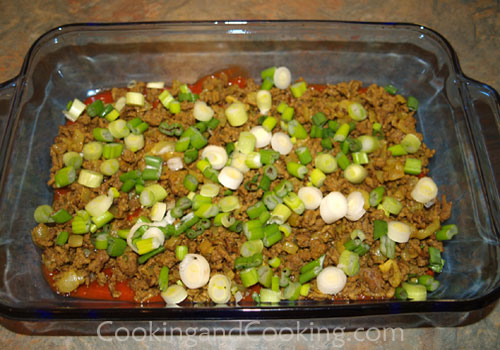 Spread a layer of ricotta cheese.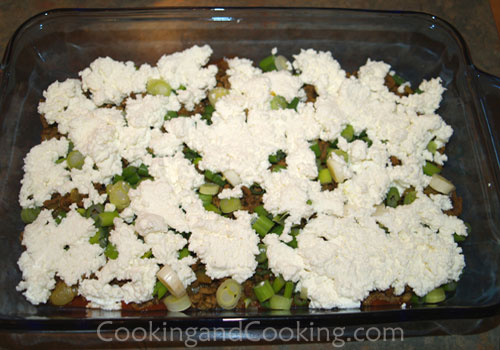 Then spread the orzo on top of the ricotta. Pour the remaining sauce over the orzo.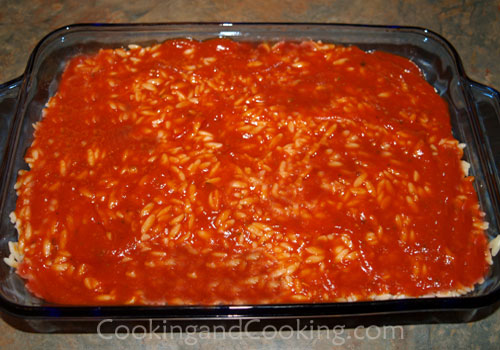 Top with shredded mozzarella cheese and arrange the pepperoni slices on top.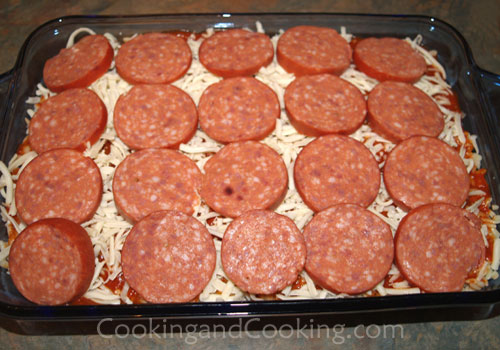 Cover the baking dish with foil and bake on the middle rack of the oven for 30 minutes. Remove the foil and bake for another 15 minutes. Serve immediately.
Note: Please do not use our photos without prior written permission. Thanks!

Print
You might also like these...
Stay In Touch