Categories
By Ingredient
Special Occasions
More Links
Orzo Salad with Grape Tomatoes
Posted on 2011-01-21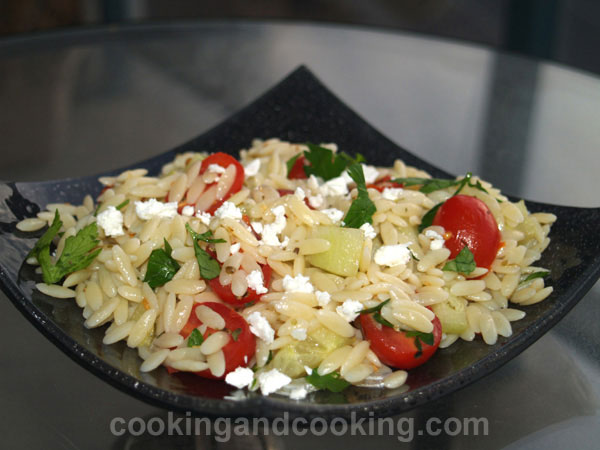 Orzo Salad is a great and simple pasta salad, which is perfect for picnics. Feel free to add more ingredients you like. If you have never tried orzo before, it is rice shaped pasta that you can find in most grocery stores.

Print
---
Yield: Serves 4-5
INGREDIENTS
1 cup (about 180 g) orzo pasta
1 cup (about 160 g) grape tomatoes, halved
1 1/2 cups cucumber, peeled and chopped
2 tablespoons extra-virgin olive oil
4 tablespoons lemon juice (you can add more, depends on your taste)
120 g feta cheese, crumbled
1/4 cup fresh parsley, finely chopped
2 tablespoons dried oregano leaves or dried thyme
salt & black pepper to taste
INSTRUCTIONS
Bring a large pot of salted water to a boil. Add the orzo and cook uncovered, over high heat until al dente, cooked through but still a bit firm, stirring occasionally (or cook the orzo according to the package directions). Drain the orzo in a colander and and rinse with cold water. Set aside.
In a large bowl, toss the drained orzo with the rest of the ingredients, the olive oil, chopped parsley, tomatoes, feta cheese, cucumber, oregano, black pepper and lemon juice (add the lemon juice just before serving). Because the feta cheese is salty, taste and add salt if needed. Serve at room temperature.
Note: Please do not use our photos without prior written permission. Thanks!

Print
You might also like these...
Stay In Touch