Categories
By Ingredient
Special Occasions
More Links
Mixed Vegetable with Feta Cheese
Posted on 2010-05-21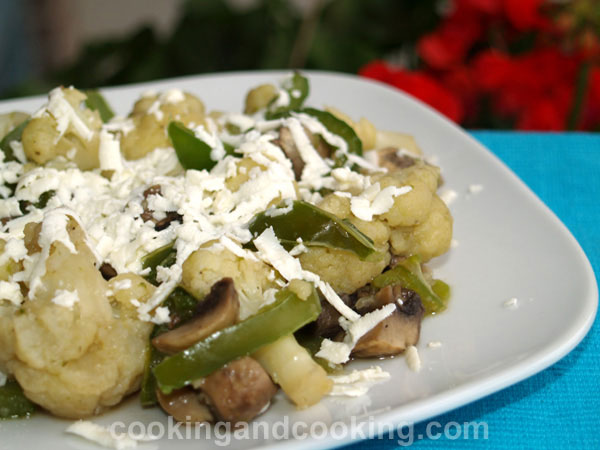 Make this Mixed Vegetable with whatever you have available at home. Use other vegetables in addition to or in place of the ones listed.

Print
---
Yield: Serves 4-5
INGREDIENTS
10 medium mushrooms, washed and chopped
1 large green bell pepper, sliced into strips
500 g cauliflower florets
4 tablespoons extra-virgin olive oil
fresh lemon juice to taste, optional
shredded feta cheese
1 1/2 teaspoons garlic powder
salt & black pepper to taste
INSTRUCTIONS
Heat oil in a pot over medium heat. Add the bell pepper and cauliflower florets; saute for 5-8 minutes, stirring occasionally. Add the garlic powder, salt and black pepper. Cover the pot and cook for 10-12 minutes.
Add the mushroom and cook uncovered over medium-high until vegetables are tender and almost all the liquid is absorbed. Add lemon juice. Taste and adjust seasonings. Transfer to a serving dish and sprinkle with feta cheese on top.
Note: Please do not use our photos without prior written permission. Thanks!

Print
You might also like these...
Stay In Touch