Categories
By Ingredient
Special Occasions
More Links
Mixed Vegetable Gratin Recipe
Posted on 2010-06-14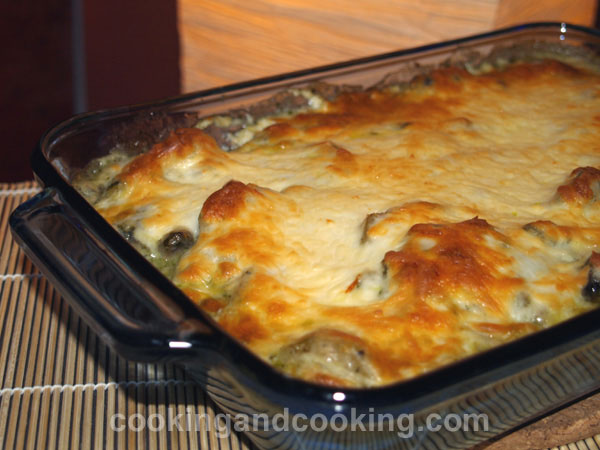 A super simple veggie casserole that's easily customizable! Make this mixed vegetable casserole with zucchini, mushroom, bell pepper, potato, pesto sauce, and cheese; and find out how delicious it can be to add more vegetables into your diet.

Print
---
Yield: Serves 5-6
INGREDIENTS
3 medium zucchinis, sliced
400 g mushrooms, washed and chopped
1 large green bell pepper, chopped
2 medium potatoes
1 1/2 cups shredded mozzarella cheese
1 1/2 cups White Sauce or Bechemal Sauce
3 tablespoons vegetable oil
6 tablespoons basil pesto sauce
salt & pepper to taste
INSTRUCTIONS
Wash the potatoes, put them into a pot and add salt. Pour water until potatoes are covered and bring to a boil. Reduce heat to medium. Cover the pot and simmer until done - a fork can easily be poked through them. Drain water from potatoes, peel and slice them. Set aside.
Heat oil in a pot over medium heat. Add the mushrooms and saute for 12-15 minutes, stirring occasionally. Add the green pepper and zucchini; saute for 5 minutes. Add pesto sauce, salt and pepper. Cook uncovered until vegetables are tender and almost all liquid is absorbed. Taste and adjust seasonings.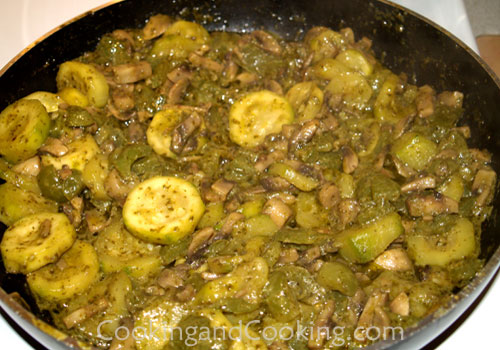 Meanwhile prepare the White Sauce or Bechemal Sauce (if it looks too thick, add a little more milk). Set the sauce aside.
Use a little oil to grease a 8 x 11-inch baking dish. Put a layer of sliced potatoes down first. Then spread the vegetable mixture over the potatoes. Pour the white sauce all over the vegetable mixture.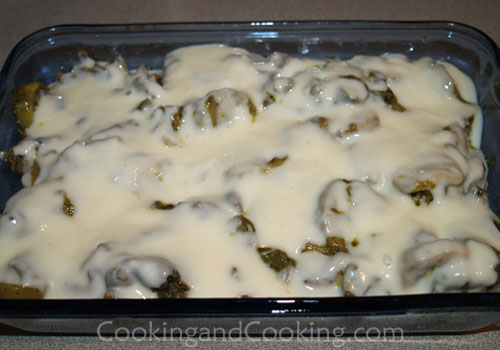 Then sprinkle cheese on top.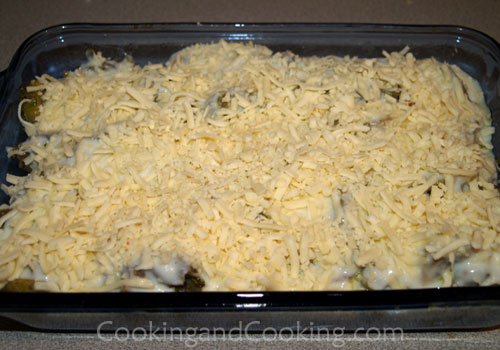 Place the baking dish on the middle rack of the oven. Broil on low heat until cheese is melted and the top begins to get lightly browned, about 3-5 minutes (watch carefully while broiling). Remove from the oven and let cool for a few minutes before serving.
Note: Please do not use our photos without prior written permission.
Thank you!

Print
You might also like these recipes...
Stay In Touch
Join my Telegram Channel