Categories
By Ingredient
Special Occasions
More Links
Lentil Quinoa Salad
Posted on 2015-04-19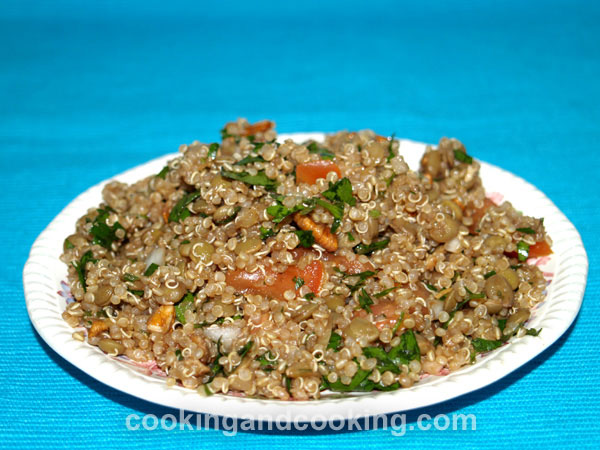 Quinoa is a healthy food that has lots of protein and little carbohydrate. This salad recipe is a perfect combination of quinoa, lentil, fresh parsley, tomatoes, onion and pecan. Lentil Quinoa Salad can be served alone as a main course, or as a side dish with chicken or fish.

Print
---
Yield: Serves 5
INGREDIENTS
1/2 cup lentils, picked over to remove any stones
1 cup quinoa
1 tomato, diced
1 cup finely chopped fresh parsley
2 tablespoons minced onion
1/2 cup coarsely chopped pecan
3 tablespoons olive oil
5 tablespoons balsamic vinegar
2 teaspoons lemon juice
salt and black pepper to taste
INSTRUCTIONS
Place the lentil in a pot and add 3 cups water. Cover the pot and bring to a boil. Reduce heat to medium and cook covered until lentils are tender, about 30-35 minutes. Drain and set aside.
Meanwhile, in a small saucepan, bring 2 cups water to a boil. Add the quinoa and give it a quick stir. Cover the saucepan, reduce heat to low and simmer for 15 minutes, or until the quinoa is tender and the water has been absorbed. Remove from heat and let stand 5 minutes. Then fluff with a fork. Allow it to cool to room temperature (or cook as per the package instructions).
Transfer the quinoa and lentil to a large bowl. Add the tomato, parsley, onion, pecan, olive oil, balsamic vinegar, lemon juice, salt, and pepper and toss well. Lentil Quinoa Salad is ready to serve.
Note: Please do not use our photos without prior written permission. Thanks!

Print
You might also like these...
Stay In Touch