Categories
By Ingredient
Special Occasions
More Links
Hot Spinach and Asparagus Dip
Posted on 2010-08-24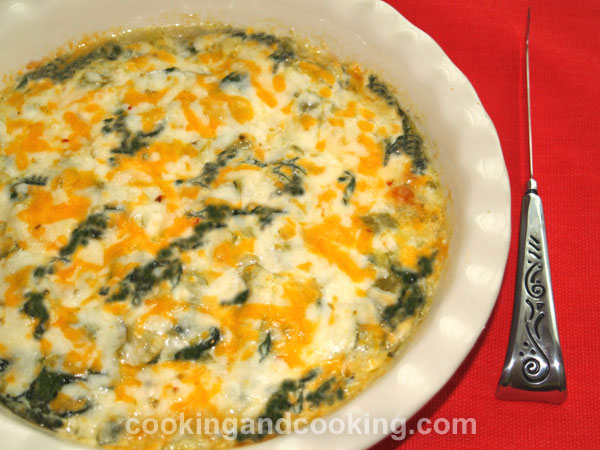 Hot Spinach and Asparagus Dip is a very impressive looking appetizer and easy to prepare. This dip recipe will be a big hit at your next gathering.

Print
---
Yield: Serves 5-6
INGREDIENTS
1 cup light sour cream
450 g spinach, finely chopped
1 can (340 ml) asparagus tips, drained and chopped
4 garlic cloves, diced
1 1/3 cups shredded cheddar and mzzarella cheese
2 tablespoons cooking oil
salt and black pepper to taste
INSTRUCTIONS
Heat the cooking oil in a pot over medium. Add the garlic and saute for 1-2 minutes. Add the chopped spinach; cook until completely wilted. Then transfer to a colander; drain, pressing to release all excess liquid.
Preheat oven to 400 degrees F. Meanwhile combine sour cream, salt, black pepper and 2/3 cup of shredded cheddar and mozzarella cheese in a medium bowl. Add cooked spinach and chopped asparagus; mix lightly.
Then pour into a shallow baking dish and sprinkle with remaining cheese. Place the baking dish on the middle rack of the oven; bake until cheese is melted and bubbly. Serve with French bread or cracker.
Note: Please do not use our photos without prior written permission. Thanks!

Print
You might also like these...
Stay In Touch