Categories
By Ingredient
Special Occasions
More Links
Ground Beef Stew
Posted on 2010-03-02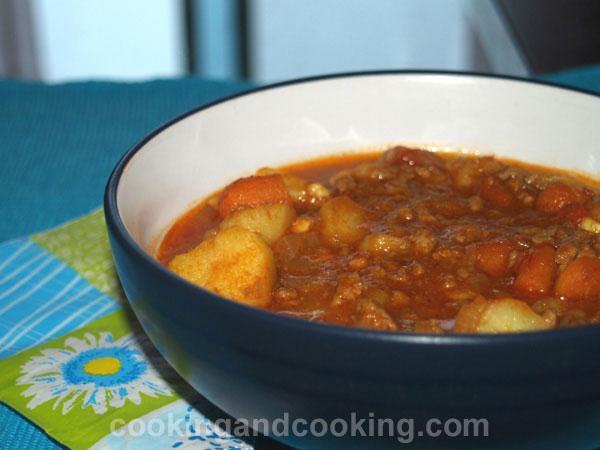 Ground Beef Stew is a perfect and easy to make stew and you can add other veggies to it if you want more nutrition.

Print
---
Yield: Serves 4-5
INGREDIENTS
350 g extra lean ground beef
1 1/2 cups fingerling potatoes, peeled and sliced
1/2 cup baby carrots, sliced
1 medium tomato, chopped
1/2 teaspoon cumin ground
1/2 teaspoon curry powder
1/4 teaspoon turmeric powder
4 garlic cloves, diced
8 tablespoons crushed tomatoes
1 medium onion, diced
2-3 tablespoons cooking oil
2 tablespoons lemon juice
1 1/2 cups water
salt & pepper to taste
INSTRUCTIONS
Heat the cooking oil in a pot over medium heat. Add diced onions and saute until slightly golden. Add the garlic and saute for 1 minute. Increase heat to medium-high; add ground beef and saute until no longer pink, stirring occasionally.
Then add crushed tomatoes, cumin ground, curry powder, turmeric powder, water, salt and pepper. Cover the pot and simmer for 20 minutes over medium-low heat. Add chopped tomatoes, sliced carrots, sliced potatoes and lemon juice; cover the pot and simmer until vegetables are tender and stew is thickened.
Note: Please do not use our photos without prior written permission. Thanks!

Print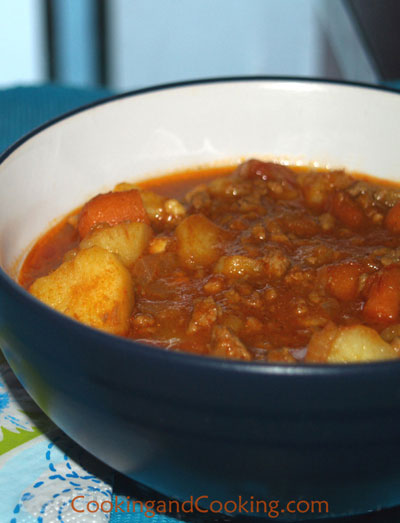 You might also like these...
Stay In Touch