Categories
By Ingredient
Special Occasions
More Links
Green Pepper Dolma (Stuffed Green Pepper)
Posted on 2015-04-29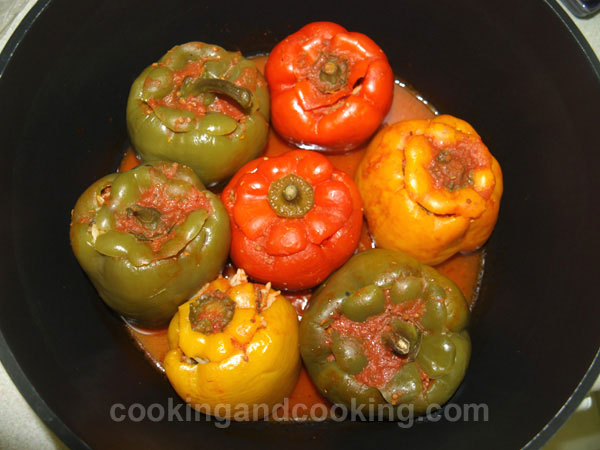 Green Pepper Dolma (or Stuffed Bell Pepper) is a good home-made meal that most of us like, make it and enjoy. You can use red or yellow bell peppers as well.

Print
---
Yield: Makes 10-11 stuffed green pepper
INGREDIENTS
600 g extra lean ground beef
10-11 large bell peppers, any color
2 cups uncooked rice
7 green onions, both green and white parts, sliced
1 bunch parsley, about 2 cups finely chopped
2/3 cup finely chopped fresh tarragon
3 tablespoons dried basil
1 medium onion, finely chopped
vegetable oil
crushed tomatoes
1 tablespoon lemon juice
1/4 teaspoon ground cinnamon
1 teaspoon turmeric powder
salt & pepper to taste
INSTRUCTIONS
Place the rice in a large bowl. Pour lukewarm water, stir and pour off the water. Repeat four times until water runs clear. Then soak rice in salted (with 2 tablespoons salt) lukewarm water for an hour.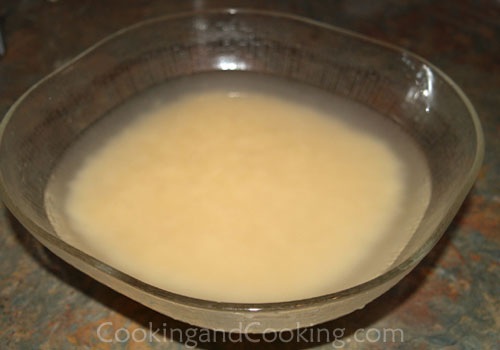 Drain the soaked rice and set aside.
Then pour water in a large pot (until it is 3/4-full), add 1 tablespoon salt and bring to a boil over high heat. Add rice to the boiling water and cook uncovered until rice is a little tender (not quite tender) about 3 minutes, stirring once or twice. Remove from the heat and drain the rice in a colander.
Meanwhile, heat 3 tablespoons oil in a pot over medium heat. Add the onions and saute until golden. Increase heat to medium-high, add the ground beef and saute until no longer pink, stirring occasionally. Reduce heat to medium, add the green onions, basil, parsley, tarragon, turmeric, cinnamon, salt and pepper and saute for 3 minutes. Add 7-tablespoons crushed tomato, stir well and cook for 2-3 minutes. Taste, adjust seasonings and set aside.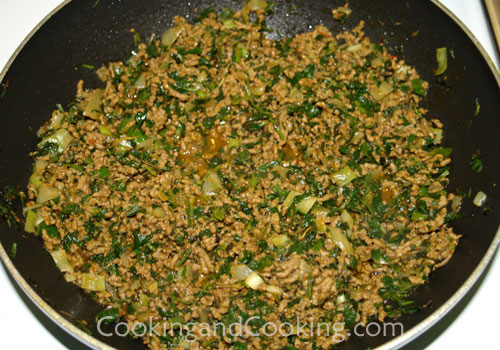 Mix the ground beef mixture and cooked rice and set aside.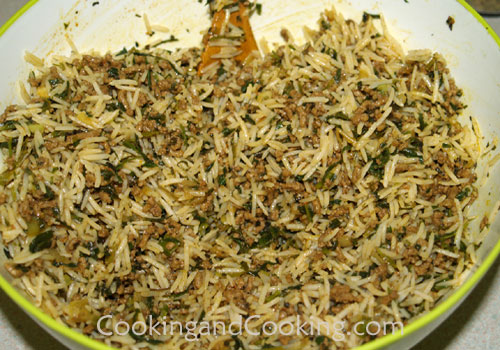 To prepare the bell peppers, cut a circle at the top of the peppers and remove seeds.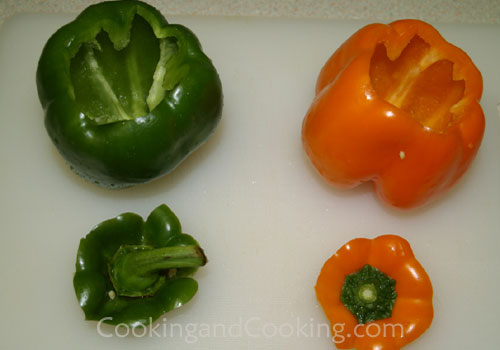 Bring a large pot of water to a boil over high heat. Add 1/2 teaspoon salt and place peppers in the pot (they should be placed side by side, make sure not to stack them). Boil until slightly softened about 3-4 minutes (take care not to overcook or they might fall apart later on). Drain the water and let cool.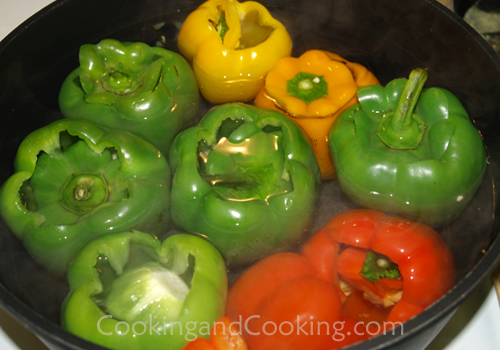 Prepare sauce by mixing 2 cups of hot water, 1 1/2 cups crushed tomatoes, salt, 2-tablespoons oil and 1-tablespoon lemon juice. Taste and adjust salt.
Stuff each of the bell peppers with the rice-beef mixture.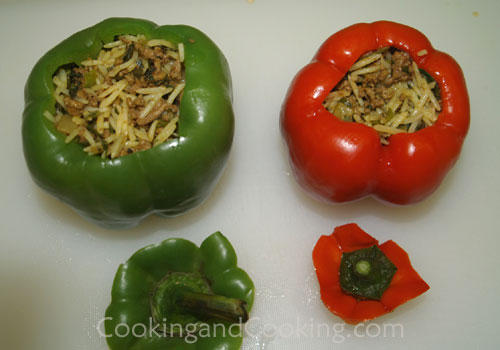 Place the stuffed peppers side by side in a large pot (avoid stacking them, I used 2 pots). Pour 3-tablespoons of sauce over each pepper.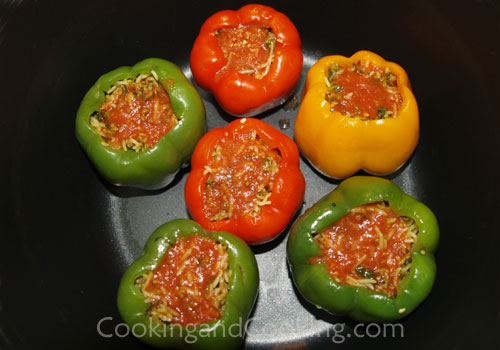 Place the bell pepper top (the one you cut out earlier) on top. Pour the remaining sauce all over the peppers.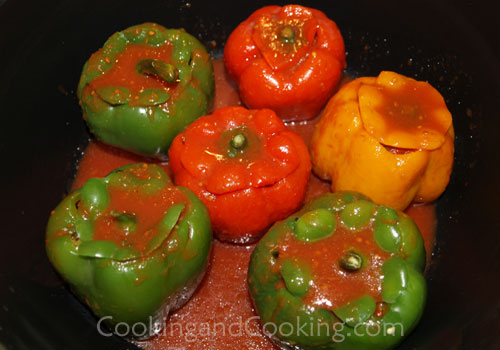 Cover the pot and cook over medium-low heat until the peppers are well cooked, about 50-60 minutes. Add more hot water during cooking if needed.
Note: Please do not use our photos without prior written permission. Thanks!

Print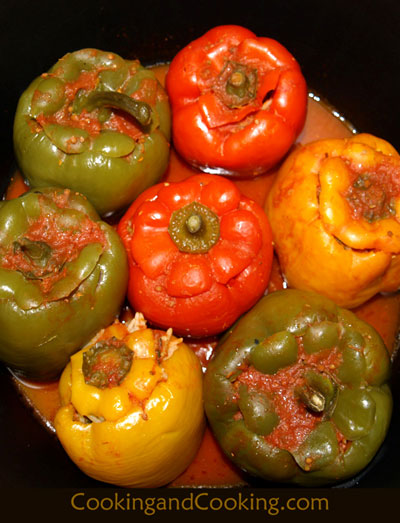 You might also like these...
Stay In Touch