Categories
By Ingredient
Special Occasions
More Links
Green Beans and Dill Salad
Posted on 2017-05-17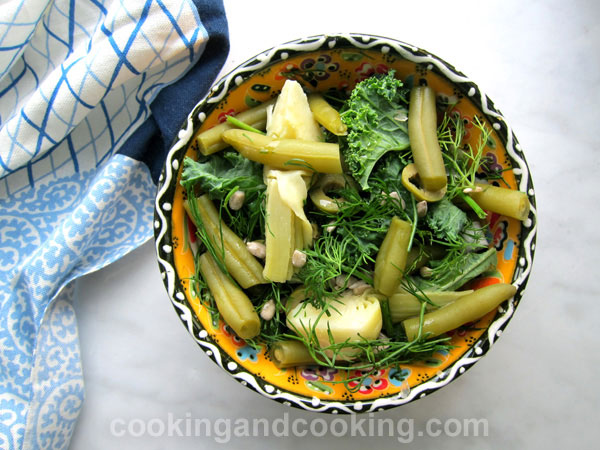 Green beans and dill salad is a perfect combination of fresh dill, kale, green beans, artichoke, green onions, olives, lemon zest and lemon juice. I used canned green beans for this salad but you can use fresh or frozen green beans. If you are using the fresh green beans; cook them in salted boiling water until just tender, drain and immediately place them into ice-water until cool. Then drain, pat dry and add to the salad.

Print
---
Yield: Serves 4
INGREDIENTS
2 cups chopped kale
1 can (398 ml) artichoke hearts, drained and roughly chopped
1 can (398 ml) green beans, drained
1 cup sliced green olives
1 cup chopped fresh dill
3 green onions, sliced
2 tablespoons olive oil
zest and juice of 1 lemon
salt & pepper to taste
sunflower kernels
INSTRUCTIONS
Combine chopped kale, artichoke, green beans, olives, dill, and green onions in a large bowl.
In a small bowl, mix together olive oil, lemon juice, lemon zest, salt, and pepper. Pour over the salad, and stir to coat. Sprinkle the sunflower kernels and serve.
Note: Please do not use our photos without prior written permission. Thanks!

Print

You might also like these...
Stay In Touch