Categories
By Ingredient
Special Occasions
More Links
Fish with Coriander and Parsley
Posted on 2014-12-28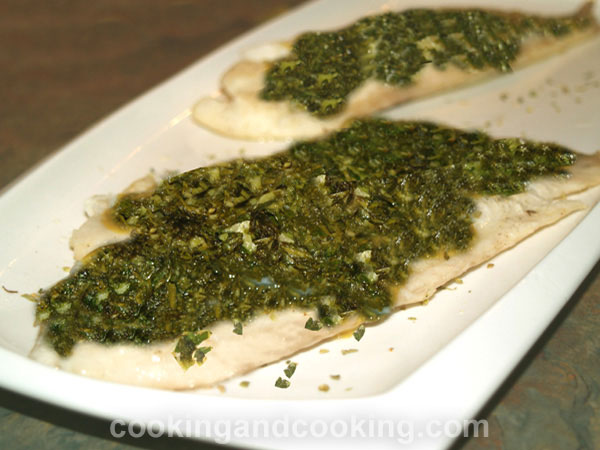 If you are looking for a quick, light and easy seafood recipe, try this fish recipe with fresh coriander and parsley. I used cod fillet that could be easily replaced by tilapia, salmon or any kind of fish you like. Serve fish and coriander & parsley with couscous or Mashed Potato.

Print
---
Yield: Serves 2
INGREDIENTS
350 g cod fillets or any kind of fish you like
1 bunch Italian parsley (about 50 g), chopped
1 bunch coriander (about 50 g), chopped
2 garlic cloves
3 tablespoons extra-virgin olive oil
juice of one lime, about 2 tablespoons
zest of half a lime
salt and black pepper to taste
INSTRUCTIONS
In a food processor, blend together parsley, coriander, garlic and olive oil until smooth. Add the lime juice, lime zest, salt and pepper and combine well.
Preheat oven to 400 degrees F. Pat dry the fish with paper towel. Season lightly with salt and black pepper. Grease the bottom of a baking dish lightly with cooking spray. Place the cod fillets in the baking dish and spread the herb sauce mixture all over the fillets.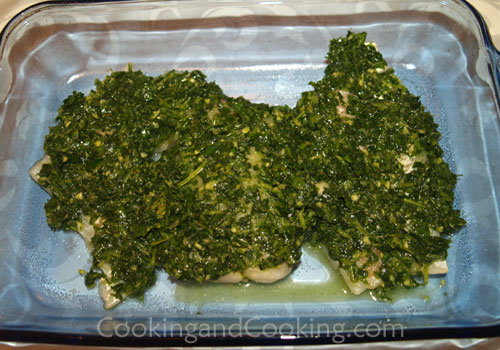 Place on the middle rack of the oven and bake until cooked through, about 25-30 minutes. Serve the fish immediately with couscous or Mashed Potato.
Note: Please do not use our photos without prior written permission. Thanks!

Print
You might also like these...
Stay In Touch