Categories
By Ingredient
Special Occasions
More Links
Cucumber Avocado Salad with Feta
Posted on 2012-08-07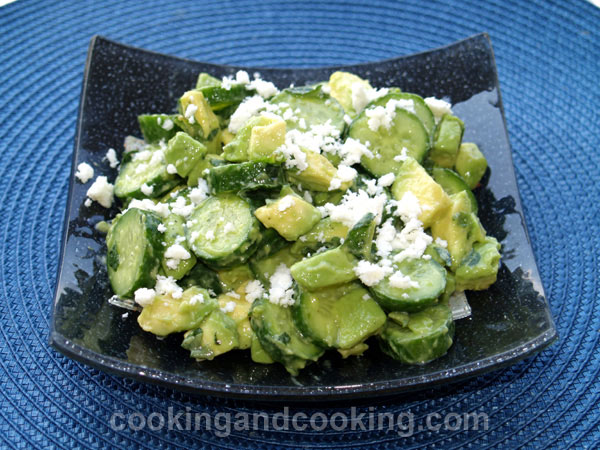 In the summertime when the weather is hot, nothing is more cooling than an easy salad. Make this healthy Cucumber Avocado Salad, and serve with a grilled salmon or chicken breast on the side; you've got yourself a meal.

Print
---
Yield: Serves 2
INGREDIENTS
2 small ripe avocados, peeled, pitted and cubed
2 cups thinly sliced cucumbers (about 4 medium cucumbers)
1/4 cup finely chopped fresh mint
1/2 cup crumbled feta cheese
1 tablespoon extra-virgin olive oil
2 tablespoons lemon juice
salt & black pepper to taste
INSTRUCTIONS
In a small bowl, whisk the lemon juice and olive oil. Season with salt and black pepper, to taste. Set the dressing aside.
Place the sliced cucumbers, avocado and mint in a salad bowl. Pour the dressing over them and gently toss together. Taste and adjust seasoning. Right before serving, sprinkle on feta cheese. Serve immediately.
Note: Please do not use our photos without prior written permission. Thanks!

Print
You might also like these...
Stay In Touch