Categories
By Ingredient
Special Occasions
More Links
Crostini with Mushrooms
Posted on 2010-11-17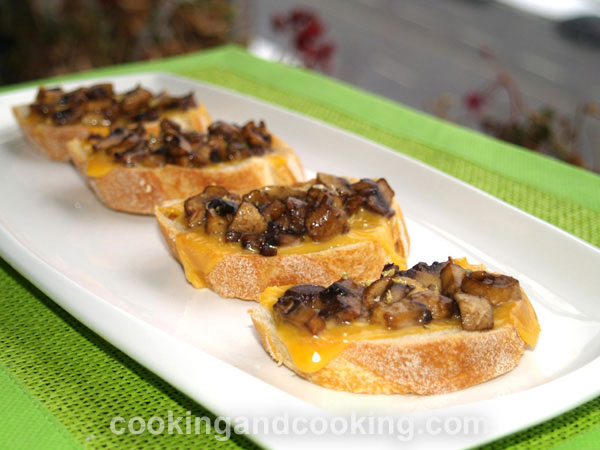 Make this Crostini Mushrooms, if you are looking for a simple, satisfying and perfect finger food for your next party.

Print
---
Yield: Makes 14 crostinis
INGREDIENTS
14 slices of French bread baguette, about 1/2-inch thick
4 garlic cloves, minced
8 medium mushrooms, washed and chopped
3 tablespoons extra-virgin olive oil
2 tablespoons balsamic vinegar
7 slices of cheddar cheese (or mozzarella cheese), cut into half
2 tablespoons dried oregano leaves
salt & black pepper to taste
INSTRUCTIONS
In a skillet heat olive oil over medium heat. Add diced garlic and saute for 1 minute. Add chopped mushrooms and saute for 4-5 minutes. Add balsamic vinegar, salt and black pepper; increase heat to medium-high and cook uncovered, stirring until all the liquid is absorbed.
Preheat oven to 375 degrees F. Arrange slices of bread on a baking sheet. Place half a slice of cheddar cheese on top of each bread. Place the mushroom mixture on top of the cheese and sprinkle with dried oregano.
Bake in the oven until cheese is melted, about 6 minutes. Serve warm.
Note: Please do not use our photos without prior written permission. Thanks!

Print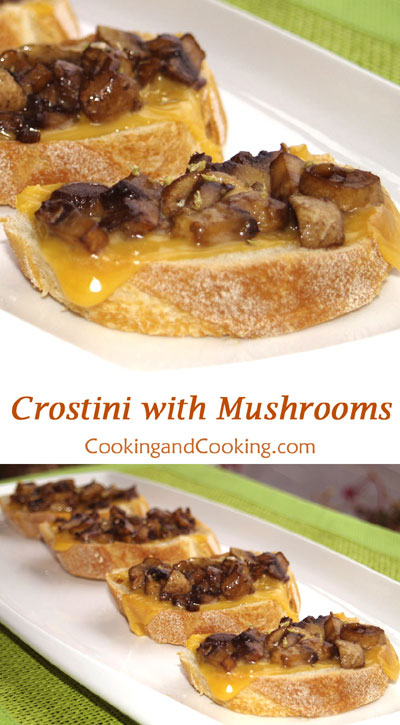 You might also like these...
Stay In Touch