Categories
By Ingredient
Special Occasions
More Links
Creamy Tomato Soup
Posted on 2010-12-22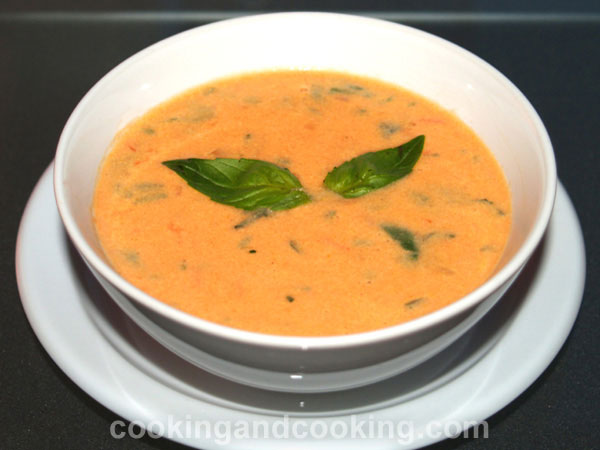 Creamy Tomato Soup is a perfect soup for chilly winter nights. It is one of the easiest soups, you can make in your own kitchen.

Print
---
Yield: Serves 4
INGREDIENTS
6 fresh tomatoes (about 800 g), chopped
1 medium onion, chopped
1 teaspoon sugar
2 cups water
1/3 cup finely chopped fresh basil leaves
1/3 cup finely chopped fresh parsley
2 tablespoons oil
1 cup heavy cream 35%
salt and pepper to taste
INSTRUCTIONS
In a large pot heat oil over medium heat. Add chopped onions and saute, stirring occasionally for 3 to 5 minutes or until softened. Add chopped tomatoes, sugar, salt, black pepper, and water. Cover the pot, cook and simmer, stirring occasionally for 20 minutes or until tomatoes are tender.
Remove the pot from the heat and let it cool a little. Blend tomato mixture in a blender until smooth. Return to the pot. Add the basil and parsley. Cover the pot and cook over medium heat for 5-7 more minutes. Then add cream and cook for 1-2 more minutes (don't let boil). Serve immediately.
If soup is too thick, add more water.
Note: Please do not use our photos without prior written permission. Thanks!

Print
You might also like these...
Stay In Touch