Categories
By Ingredient
Special Occasions
More Links
Couscous Vegetable Salad
Posted on 2013-09-29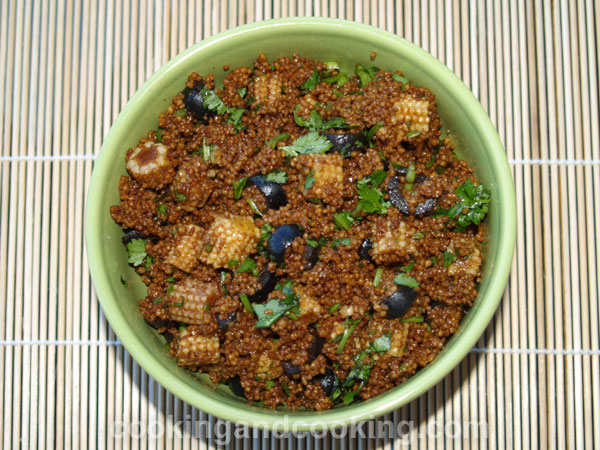 Couscous Vegetable Salad is an easy vegetarian recipe with baby corn, black olive, fresh coriander in a combination of soy sauce and lemon juice dressing. Couscous salad is a quick salad recipe that can be prepared in just 15 minutes, a perfect dish for a midweek meal!

Print
---
Yield: Serves 5
INGREDIENTS
1 cup whole wheat couscous
1 can (398 ml) baby corn, drained and sliced
1 cup sliced black olives
1 cup chopped fresh coriander
2 tablespoons olive oil
3-4 tablespoons soy sauce
2-3 tablespoons lemon juice
black pepper to taste
1 1/4 cups water
INSTRUCTIONS
In a medium pot, bring water to a boil. Remove from heat. Add couscous and give it a quick stir with a fork. Cover the pot and let it sit for 10-15 minutes. Remove the lid and fluff with a fork.
In a large bowl, combine the couscous, baby corn, olives and fresh coriander. In a small bowl, whisk together the olive oil, soy sauce, lemon juice and pepper. Pour the dressing over the couscous mixture and toss. Taste and adjust seasonings. Serve couscous salad at room temperature.
Note: Please do not use our photos without prior written permission. Thanks!

Print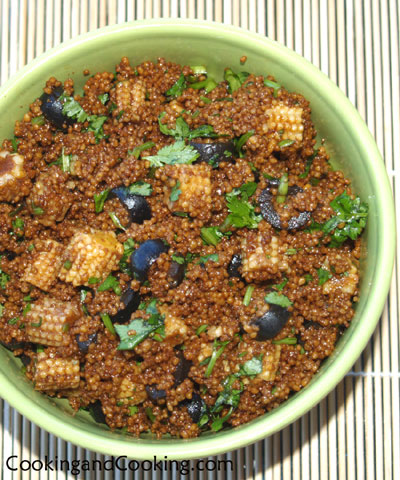 You might also like these...
Stay In Touch