Categories
By Ingredient
Special Occasions
More Links
Coconut Quinoa Porridge
Posted on 2017-10-10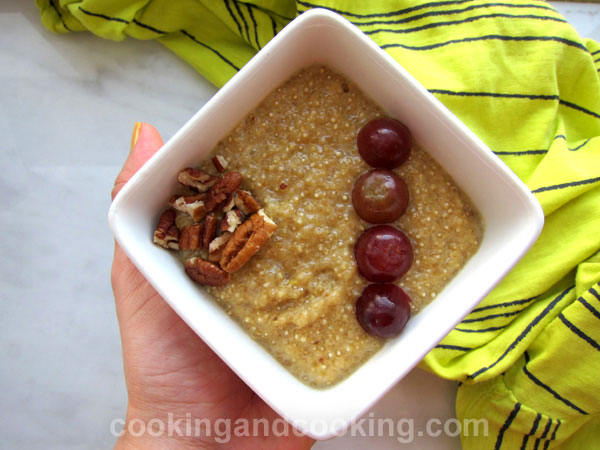 Quinoa is a good source of protein, fiber and many vitamins. This healthy coconut quinoa porridge (quinoa pudding) is a wonderful alternative to morning oats. To make it, bring coconut milk, milk, water and quinoa to a boil. Reduce heat to medium low, add honey and vanilla extract and cook until mixture is creamy. Serve warm with nuts and fruits.

Print
---
Yield: Serves 3
INGREDIENTS
3/4 cup quinoa
1 1/2 cups milk (or almond milk)
1 1/2 cups coconut milk
1/2 cup water
1/4 teaspoon vanilla extract
2 tablespoons honey
pecan and grapes
INSTRUCTIONS
In a medium saucepan, bring the quinoa, coconut milk, milk (or almond milk), water, honey and vanilla to boil over high heat. Reduce heat to medium low and continue to cook, partially covered, stirring occasionally, until the mixture has thickened and the quinoa is very tender, about 30 minutes.
Transfer the quinoa porridge to a bowl (stir in some additional coconut milk for a creamy consistency, optional). Top with pecan and grapes. Serve warm.
Note: Please do not use our photos without prior written permission. Thanks!

Print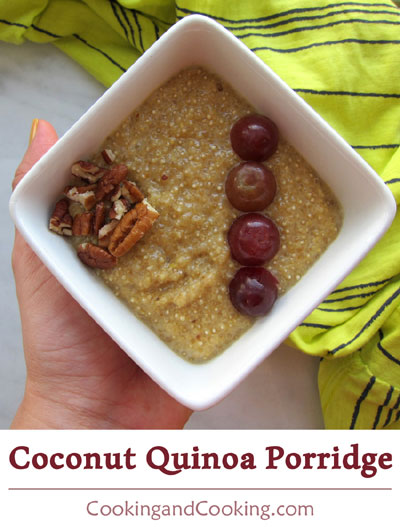 You might also like these...
Stay In Touch