Categories
By Ingredient
Special Occasions
More Links
Chocolate Covered Strawberries
Posted on 2011-02-01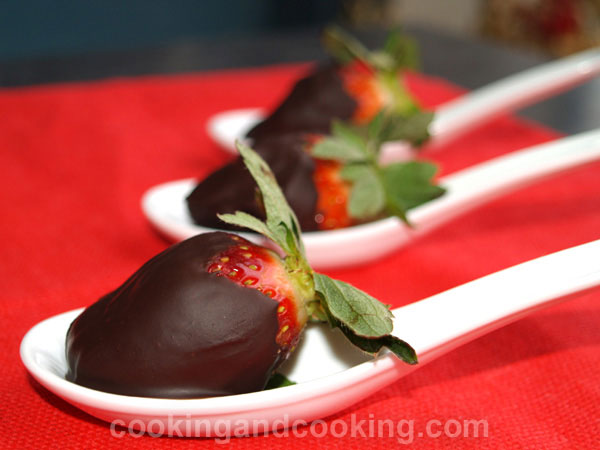 Valentines is a day for romance and what better way to impress your loved ones with a romantic chocolate dessert. Chocolate Covered Strawberries are not only delicious but also a beautiful and easy dessert for Valentine's Day. Happy Valentine's Day!

Print
---
Yield: Makes 12 chocolate covered strawberries
INGREDIENTS
12 medium strawberries
150 g semi sweet chocolate chips
1/2 teaspoon butter, room temperature
INSTRUCTIONS
Wash the strawberries and pat until completely dry, set aside.
Place the chocolate chips and butter in a small microwave safe bowl. Microwave on high for 1 to 2 minutes, or until smooth; stopping to stir every 25 seconds (or use a double boiler to melt the chocolate).
Note: if chocolate is too thick, microwave it a little more. If the chocolate is too thin, let it cool until you reach the desired thickness.
One by one, dip strawberries into melted chocolate. Place on a baking sheet with waxed paper. Allow chocolate to cool, and then refrigerate the chocolate covered strawberries until the chocolate is set, about 15 minutes. Store covered in refrigerator up to 1 day.
Note: Please do not use our photos without prior written permission. Thanks!

Print
You might also like these...
Stay In Touch