Categories
By Ingredient
Special Occasions
More Links
Chocolate Covered Bananas
Posted on 2011-08-05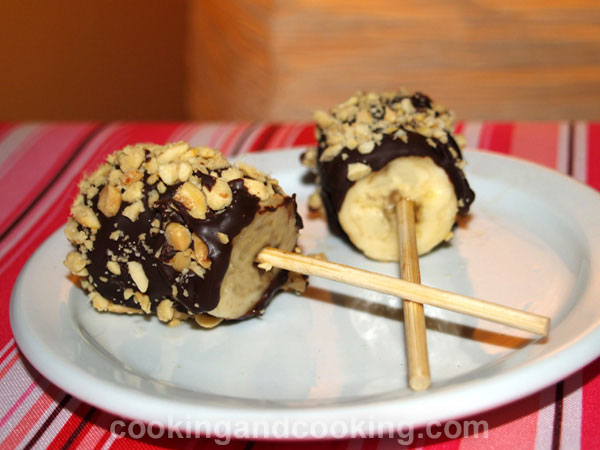 Chocolate Covered Bananas is a simple and fun recipe for kids. They will enjoy dipping bananas in chocolate and rolling them in nuts. You can use any kind of chocolate or nuts you like.

Print
---
Yield: Makes 6 chocolate covered bananas
INGREDIENTS
2 bananas, peeled and cut crosswise into thirds
1 cup (about 170 g) semi sweet chocolate chips
1/3 cup (about 45 g) salted blanched peanuts, chopped
6 wooden skewers or popsicle sticks
INSTRUCTIONS
Insert popsicle stick into each banana piece.
Place the chocolate chips in a small microwave safe bowl. Microwave on high for 1 to 2 minutes, or until smooth; stopping to stir every 25 seconds (or use a double boiler to melt the chocolate). If chocolate is too thick, microwave it a little more.
One by one, dip each piece into melted chocolate, spooning on additional chocolate to cover. Then immediately sprinkle each banana with chopped peanuts and set on a baking sheet with waxed paper. Refrigerate until chocolate is firm, about 25 minutes. Store in refrigerator up to 2 days.
Note: Please do not use our photos without prior written permission. Thanks!

Print
You might also like these...
Stay In Touch