Categories
By Ingredient
Special Occasions
More Links
Chickpea Salad
Posted on 2017-07-04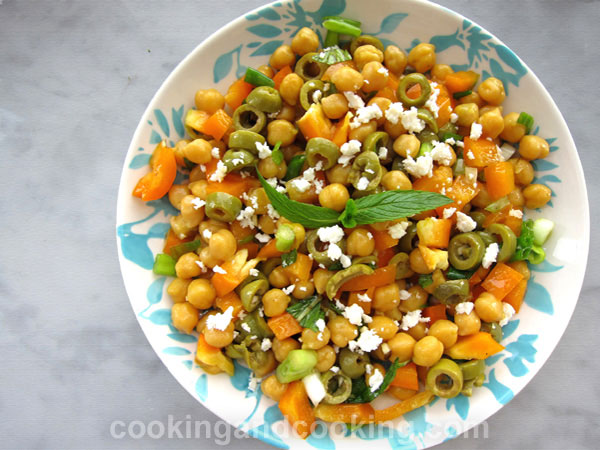 Eating healthy is easy with this chickpea salad. This simple and delicious chickpea salad made with chickpeas, fresh mint, green onion, bell pepper, olive and feta cheese. Chickpea salad is a great make-ahead meal for lunches, dinners or side dish.

Print
---
Yield: Serves 3
INGREDIENTS
2 cups cooked chickpeas, drained
2 green onions, sliced
1 large orange bell pepper, diced
1 garlic clove, minced
8-10 fresh mint leaves, chopped
1 cup sliced green olives
2 tablespoons olive oil
juice of 1 lemon
pinch of dried oregano
crumbled feta cheese
salt & pepper to taste
INSTRUCTIONS
Combine all the ingredients together except the feta cheese and toss well. Taste and adjust the seasoning.
Refrigerate at least one hour before serving. Sprinkle feta cheese over the salad and serve. Chickpea salad is full of flavor and great served as a main dish or side dish.
Note: Please do not use our photos without prior written permission. Thanks!

Print

You might also like these...
Stay In Touch