Categories
By Ingredient
Special Occasions
More Links
Chicken and Vegetable Salad Recipe
Posted on 2011-07-15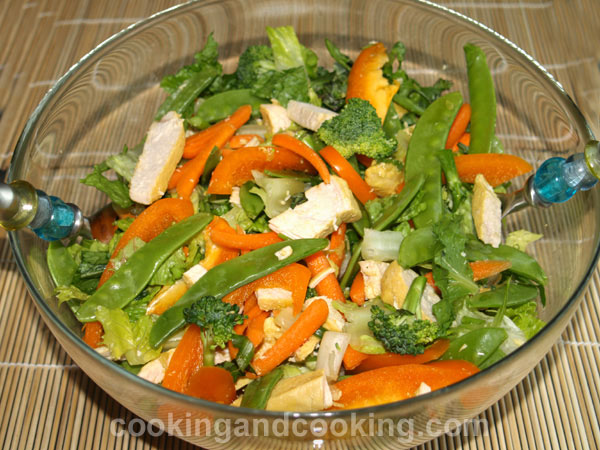 Here is a simple, light and tasty vegetable salad with chicken. You can customize this salad by mixing in your own favourite vegetables.

Print
---
Yield: Serves 4-5
INGREDIENTS
1 cup Cooked Chicken, cut in thin strips
4 cups (about 200 g) romaine lettuce, rinsed, patted dry and torn in bite-size pieces
1 sweet orange bell pepper, cut in julienne strips
3 cups (about 270 g) baby carrots, cut in thin strips
200 g snow peas, tips removed
2 cups (about 100 g) small broccoli florets
1/2 cup (about 35 g) green onions, thinly sliced
1/2 cup (about 15 g) fresh basil, finely chopped
3 tablespoons extra-virgin olive oil
2 tablespoons soy sauce
8 tablespoons fresh lime juice
6 tablespoons white wine vinegar
1 teaspoon sugar
salt and black pepper to taste
INSTRUCTIONS
In a large bowl, toss together lettuce, chicken, orange bell pepper, carrots, broccoli, snow peas, green onions and basil.
For dressing, mix extra-virgin olive oil, white wine vinegar, fresh lime juice, soy sauce and sugar. Salt and pepper to taste. Gradually toss enough of the dressing with salad to coat lightly (just before serving).
Note: Please do not use our photos without prior written permission.
Thank you!

Print
You might also like these recipes...
Stay In Touch
Join my Telegram Channel