Categories
By Ingredient
Special Occasions
More Links
Join my Telegram Channel
Chicken Rice Balls Recipe
Posted on 2016-12-30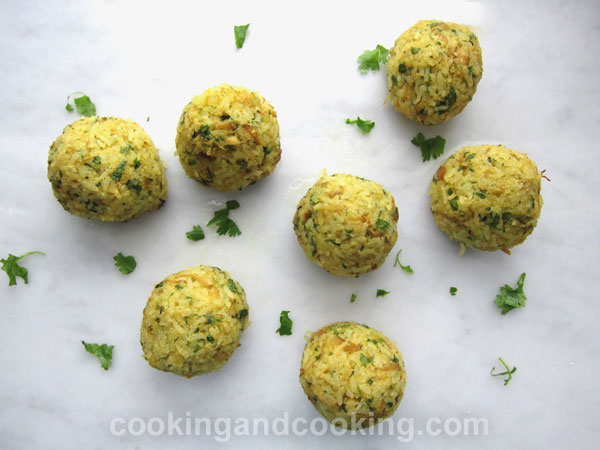 Chicken Rice Balls is a simple, healthy and tasty dinner idea, and also a perfect recipe for your leftover cooked chicken or leftover rice. This recipe is a combination of rice, chicken, and fresh cilantro that can be served alone or with your favorite tomato sauce.

Print
---
Yield: Serves 4
INGREDIENTS
For rice balls:

2 cups shredded Cooked Chicken
1 1/2 cups uncooked rice
3 cups chicken broth
1/2 cup milk
5 tablespoons vegetable oil
1 medium onion, finely chopped
2 garlic cloves, finely chopped
1 1/2 cups chopped fresh cilantro
1/4 teaspoon turmeric powder
salt & pepper to taste

For sauce:

1 1/2 cups crushed tomatoes
4 garlic cloves, finely chopped
3 tablespoons vegetable oil
1/2 teaspoon dried oregano leaves
salt & pepper to taste
INSTRUCTIONS
First place the rice in a large bowl. Pour lukewarm water over it, stir and pour off the water. Repeat four times or until water runs clear.
Place the rice and chicken broth in a pot. Cover the pot and bring to a boil. Reduce the heat to medium-low and let simmer until rice completely cooked and all of the liquid is absorbed, stirring occasionally. Remove from heat and allow to cool slightly.
Add milk and 3 tablespoons oil to the cooked rice. Use your hands to mash the rice. Set aside.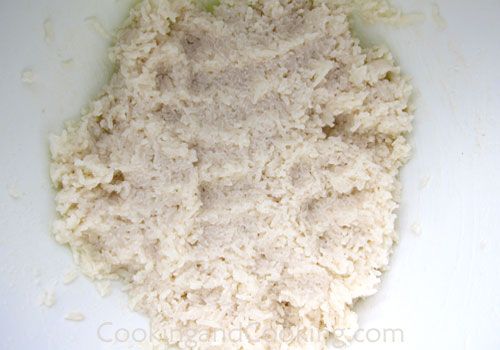 Heat 2 tablespoons oil in a pan over medium heat. Add onions and saute until slightly golden. Add garlic and saute for 1 minute. Add turmeric powder and stir well. Then add the shredded chickens and heat for 2-3 minutes.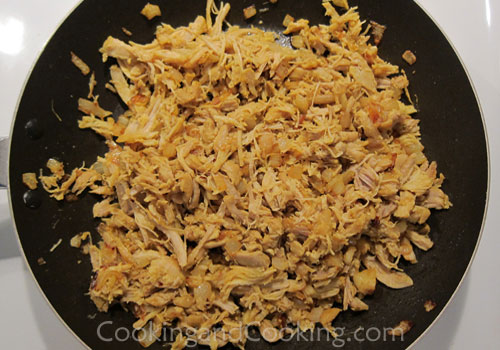 Add the chicken mixture and cilantro to the rice, and combine well. Add salt and pepper. Taste and adjust seasonings.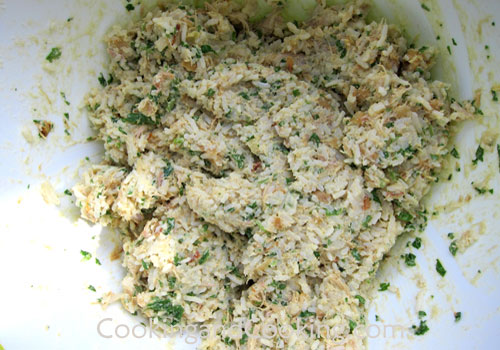 Preheat oven to 350 degrees F. Spray 2 baking dishes with non-stick cooking spray. Take 1/2 cup of the mixture and shape into a ball. Continue shaping until all the rice mixture is used. Arrange the rice balls spaced slightly apart on the baking dishes.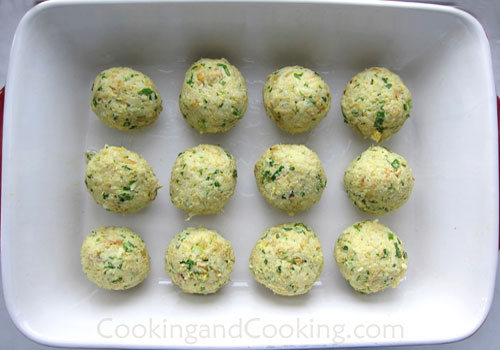 Bake in the oven until golden, about 28-30 minutes.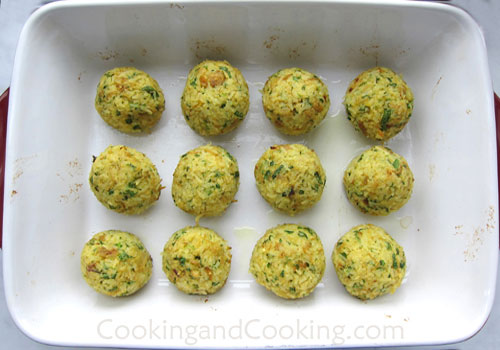 While the rice balls are cooking, prepare the sauce: heat 3 tablespoons oil in a saucepan over medium heat. Add the garlic and saute for 1 minute or until fragrant. Add crushed tomatoes, oregano, salt and pepper. Add 3/4 cup boiling water. Simmer for 20-25 minutes or until desired thickness, stirring occasionally.
Serve the rice balls alone or with tomato sauce.
Note: Please do not use our photos without prior written permission.
Thank you!

Print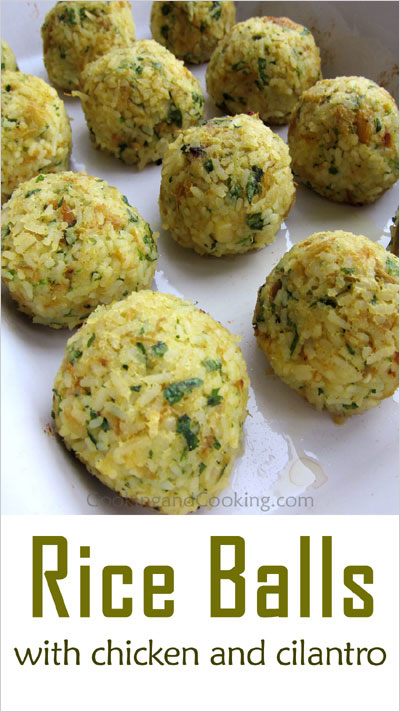 You might also like these recipes...
Stay In Touch