Categories
By Ingredient
Special Occasions
More Links
Cauliflower Soup
Posted on 2011-09-13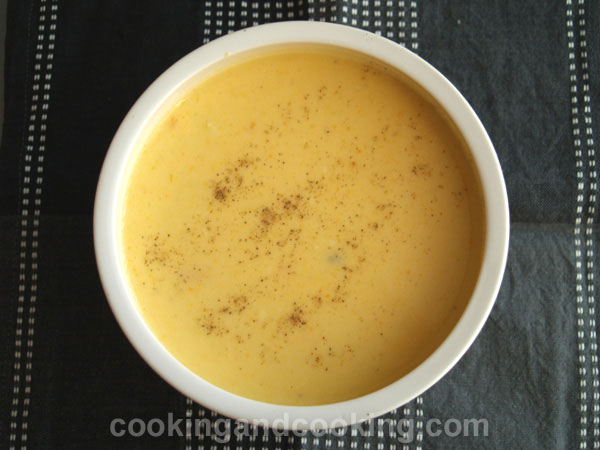 Cauliflower Soup is a great vegetarian soup recipe. A combination of carrots, cauliflower and potatoes makes this soup so delicious.

Print
---
Yield: Serves 8
INGREDIENTS
1 large head cauliflower (about 700 g), broken into florets
2 medium potatoes, peeled and chopped
1 medium onion, chopped
4 medium carrots (about 240 g), chopped
2 garlic cloves, chopped
4 cups water
2 tablespoons canola oil
2 cups milk
1 2/3 cups heavy cream 35% (you can add more or less)
salt and black pepper to taste
INSTRUCTIONS
Heat the canola oil over medium heat in a large soup pot. Add onions and fry for 5 minutes, but not browning. Add garlic and fry for 1 minute. Then add cauliflower florets, potatoes, carrots, water, salt and pepper. Cover the pot and bring to a boil. Reduce heat to medium and simmer until vegetables are tender, stirring occasionally.
Puree in a blender or food processor until smooth. Return to the pot, add milk and heavy cream. Stir well and adjust seasonings. Heat the soup for 1-2 more minutes (don't let boil). If soup is too thick, add more milk. Garnish with black pepper before serving.
Note: Please do not use our photos without prior written permission. Thanks!

Print
You might also like these...
Stay In Touch