Categories
By Ingredient
Special Occasions
More Links
Join my Telegram Channel
Beet and Coriander Salad Recipe
Posted on 2012-02-16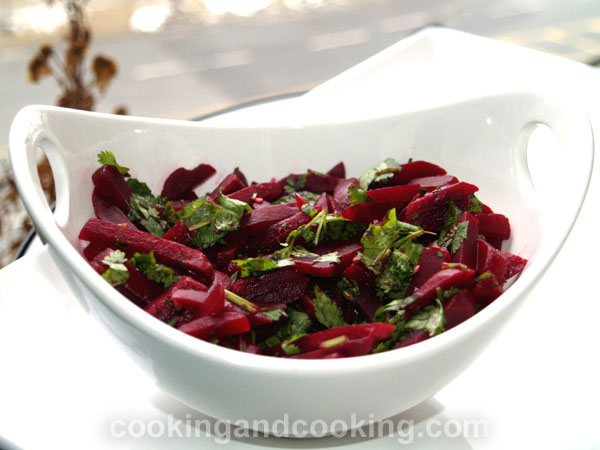 This wonderful and easy recipe for Beet and Coriander Salad comes from my dear friend Marmar. Beet and Coriander Salad is truly refreshing. For this recipe, I used canned beets instead of fresh beets, but if you have time make it with fresh beets.

Print
---
Yield: Serves 4
INGREDIENTS
2 can sliced beets (each 398 ml), about 4 cups, drained or 3-4 medium sized fresh beets, cooked (click for Cooking Fresh Beets recipe)
1 cup fresh coriander, chopped
juice from a whole fresh lemon - or to taste
1 tablespoon extra-virgin olive oil
salt & black pepper to taste
INSTRUCTIONS
Slice beets into matchstick julienne cuts.
In a large bowl, toss the matchstick beets and coriander. Add the lemon juice, olive oil, salt and pepper to the salad and toss to mix well. Taste and adjust seasonings. Chill or serve at room temperature.
Note: Please do not use our photos without prior written permission.
Thank you!

Print
You might also like these recipes...
Stay In Touch