Categories
By Ingredient
Special Occasions
More Links
Join my Telegram Channel
Beef Taco Recipe
Posted on 2013-09-01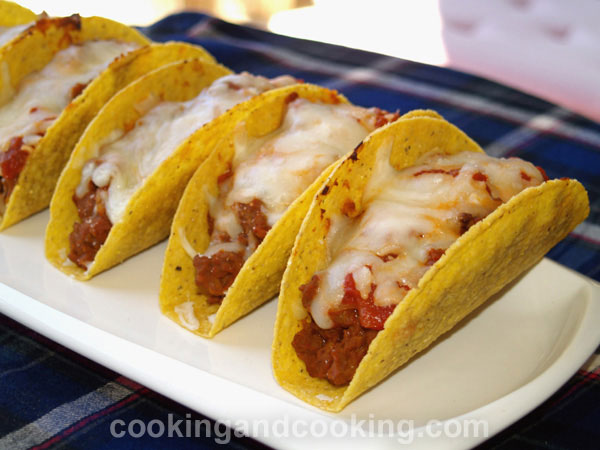 Here is a simple recipe for tasty taco. Tacos are just right for most any occasion and will impress your family. This taco recipe will be perfect for the summer especially if serves with sour cream and guacamole on the side. I used hard taco shells instead of soft shells for this recipe and it turned out perfect.

Print
---
Yield: Serves 4-5
INGREDIENTS
600 g extra lean ground beef
9-10 hard taco shells
1 medium onion, finely chopped
1 can (398 ml) refried beans
2 green onions, both green and white parts, sliced
1 1/2 cups crushed tomatoes
1 1/2 cups shredded mozzarella cheese
1 teaspoon turmeric powder
2 teaspoons dried oregano
3 1/2 tablespoons taco seasoning
1 cup salsa sauce (ready to serve) or Fresh Tomato Salsa Sauce
vegetable oil
INSTRUCTIONS
Heat 2 tablespoons of vegetable oil in a pot over medium heat, add the chopped onions and fry until golden. Increase heat to medium-high; add the ground beef and brown until no longer pink, stirring occasionally. Drain well and return to the skillet if needed.
Add the taco seasoning, turmeric, crushed tomatoes, 3/4 cup of salsa sauce and green onion. Cook uncovered over medium-low heat for 10-15 minutes, stirring occasionally. Then add the refried beans and oregano. Mix well and cook for 5 more minutes. Taste and adjust seasonings.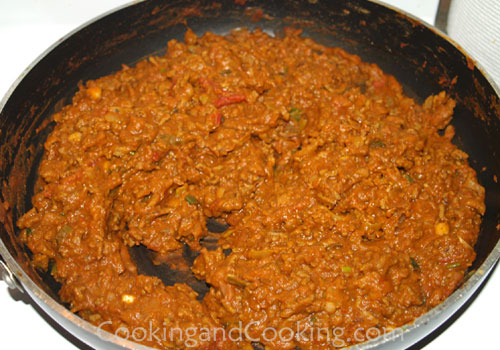 Preheat the oven to 390 degrees F. Place the taco shells into baking dish, standing up.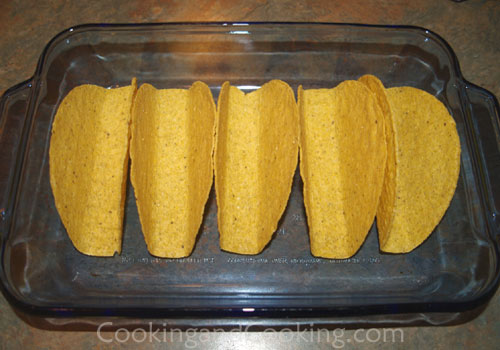 Fill the taco shells with beef mixture. Spoon a tablespoon of salsa sauce over the fillings.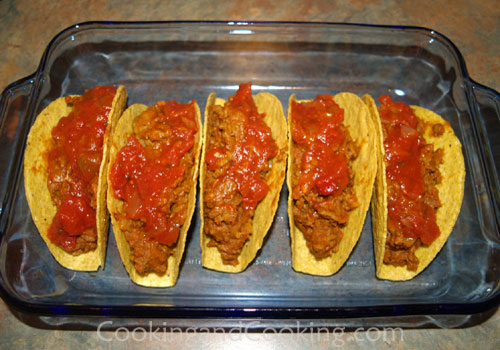 Sprinkle with cheese.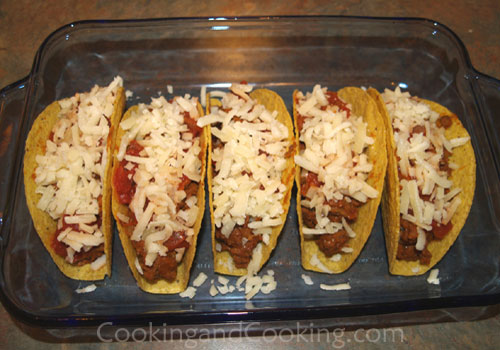 Place on the middle rack of the oven and bake until heated through and cheese is melted.
Note: Please do not use our photos without prior written permission.
Thank you!

Print

You might also like these recipes...
Stay In Touch