Categories
By Ingredient
Special Occasions
More Links
Barley Soup
Posted on 2010-03-12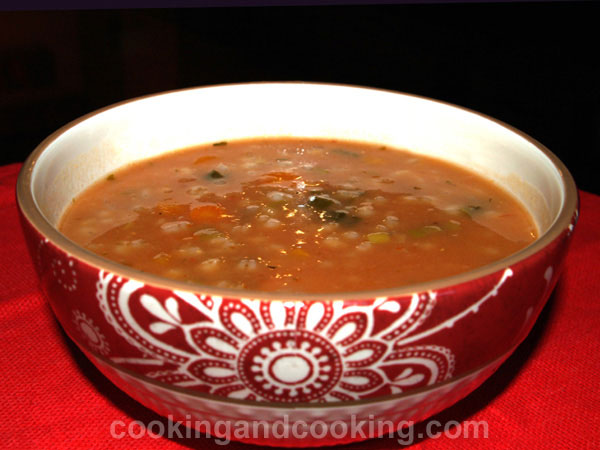 It's tempting when you see a hot bowl of barley soup on a dining table on a cold winter night! Here is the best recipe for homemade barley soup that is both healthy and filling. If you are vegetarian, add more butter instead of chicken.

Print
---
Yield: Serves 6-8
INGREDIENTS
1 cup pearl barley
1 small onion, diced
1 1/2 cups fresh carrots, peeled and chopped
100 g skinless chicken backs (or skinless wings)
10-11 cups water
1 1/2 cups green onions, diced
10 tablespoons crushed tomatoes
2-3 tablespoons lemon juice (optional)
1 teaspoon dried oregano leaves or dried thyme
2 teaspoons butter
salt and pepper
INSTRUCTIONS
Rinse and drain barley. Place barley, water, chicken backs (or wings) and diced onions in a large pot over medium-high heat. Salt and pepper to taste. Cover the pot and bring to a boil, then reduce heat to medium and simmer for 30 minutes, stirring occasionally.
Add crushed tomatoes, chopped carrots, green onions and dried oregano leaves; cover and simmer until barley and carrots are tender and desired thickness (add more water during cooking if necessary), stirring occasionally. Then add butter and lemon juice. Take the chicken backs (or wings) out before serving.
Note: Please do not use our photos without prior written permission. Thanks!

Print
You might also like these...
Stay In Touch