Categories
By Ingredient
Special Occasions
More Links
Baghali Polo (Persian Rice with Fava Beans)
Posted on 2011-11-05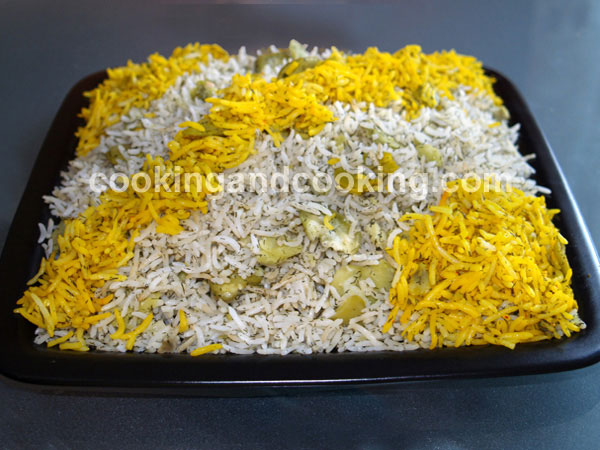 Baghali Polo (or Persian Rice with Fava Beans) made with Basmati rice, dill, fava beans, butter, and saffron, is one of the popular Iranian rice dishes.
Baghali Polo can be served either with Cooked Chicken, Persian Lamb Shanks or fish but I personally prefer Persian style lamb shanks.

Print
---
Yield: Serves 5
INGREDIENTS
2 1/2 cups uncooked basmati rice (I used this brand: Saleem Caravan, Super Golden Basmati Rice)
3 cups peeled broad or fava beans (I used frozen beans)
1 1/3 cups dried dill
1/3 cup butter, about 80 g
canola oil
1/4 teaspoon ground saffron
1/4 teaspoon ground cinnamon
2 garlic cloves, halved
salt
thin bread, I used pita bread
INSTRUCTIONS
Dissolve ground saffron in 2 tablespoons of boiling water and set aside (click for How to Use Saffron).
Place the rice in a large bowl; pour lukewarm water, stir and pour off the water. Repeat four times until water runs clear. Then soak rice in salted (with 2 tablespoons salt) lukewarm water for at least one hour.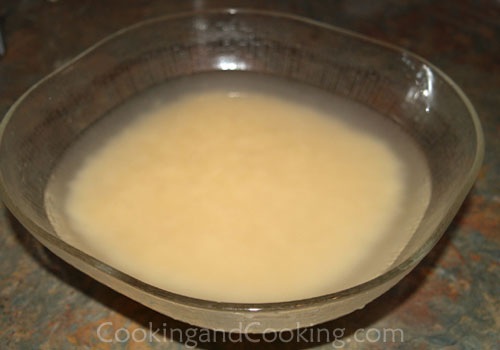 Drain the soaked rice and set aside.
Meanwhile, pour water in a large non-stick pot (until it is 3/4-full), add 1 tablespoon salt and bring to a boil over high heat. Add the frozen beans. After approximately 3-4 minutes, add rice to the boiling water and cook uncovered until rice is a little tender (not quite tender) about 5 minutes, stirring once or twice. Remove from the stove; drain the rice and beans in a colander.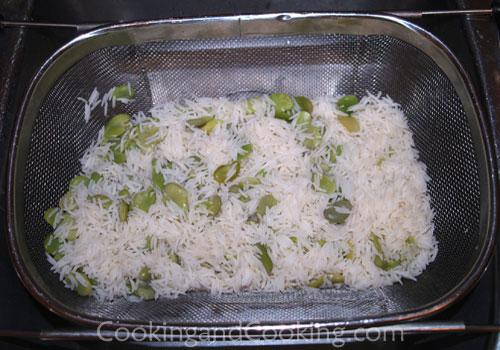 Pour 6 tablespoons oil in the non-stick pot. Place a layer of thin bread in pot; it should cover the bottom of the pot.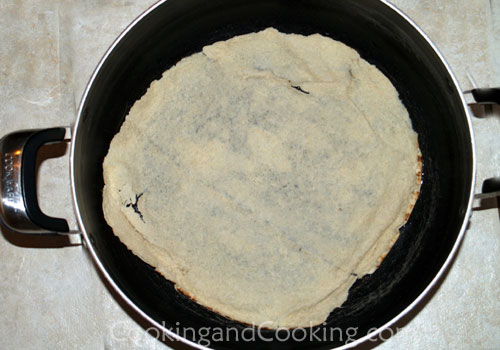 Add 1/3 of the rice and bean mixture over the bread.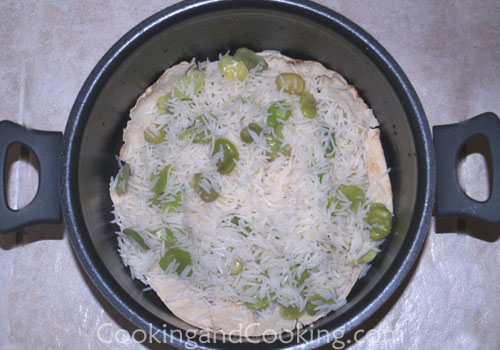 Sprinkle with 1/3 of the dried dill.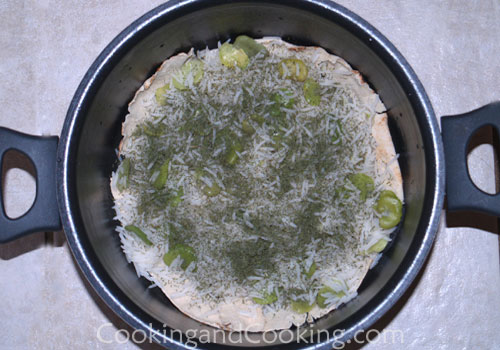 Then repeat 2 more times until you have used up all the rice-bean mixture and dill. Try to make a nice mound in the middle. Place the garlic slices into rice. Using handle of a wooden spoon, make deep holes in rice.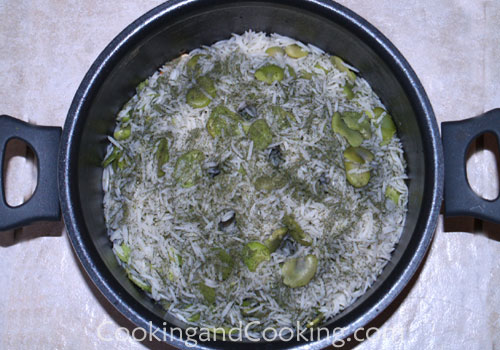 Pour 2/3 cup water over the rice. Pour 7 tablespoons oil over the rice. Sprinkle the ground cinnamon on top.
Put the lid on and cook over medium heat until it begins to steam. Then wrap a kitchen towel around underside of the pot lid, making sure it is secured on top and away from heat. Reduce the heat to low and cook for approximately 35-45 minutes.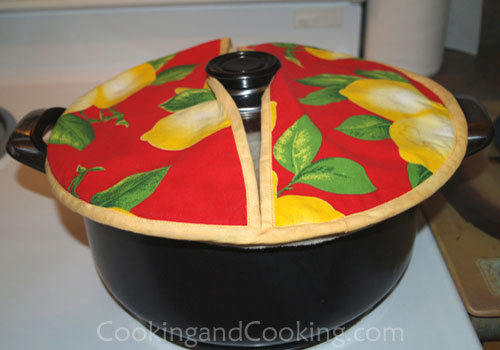 When rice is ready, in a small bowl combine dissolved saffron with 4-5 tablespoons of cooked rice and beans (using for garnish) and set aside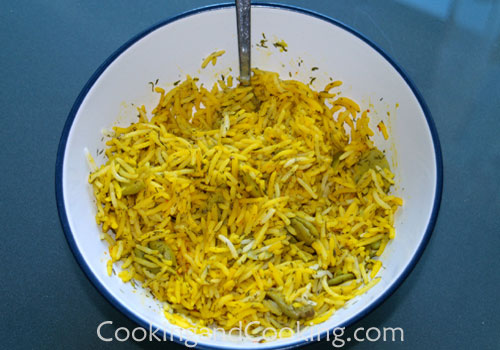 Melt the butter and pour all over the rice. Remove pot from the heat. Wet a towel with cold water and place the pot on the wet towel for a few moments. Transfer Baghali Polo to a serving dish and garnish with rice and saffron mixture. Baghali polo is ready to serve!
Finally, for Tah-deeg; carefully remove the crusty bottom with a spatula in one whole piece.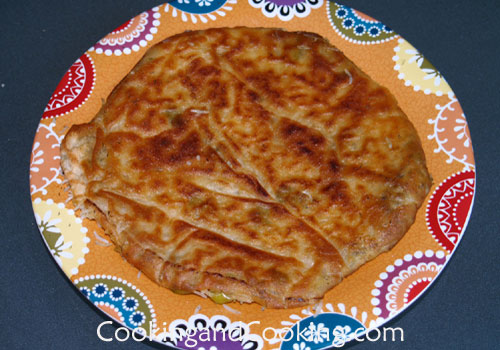 Serve with Persian Lamb Shanks or Cooked Chicken.
Note: Please do not use our photos without prior written permission. Thanks!

Print
You might also like these...
Stay In Touch