Categories
By Ingredient
Special Occasions
More Links
Artichoke Quinoa Salad
Posted on 2012-06-10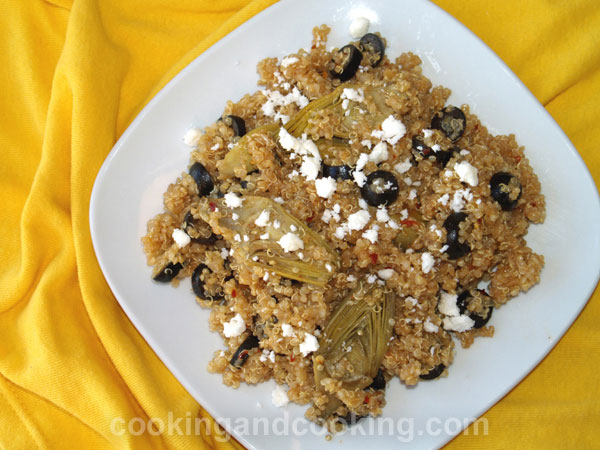 Quinoa is one of my favorites and I am always looking for new ways to make it. If you are searching for a great healthy recipe, try this quick Artichoke Quinoa Salad.

Print
---
Yield: Serves 4
INGREDIENTS
1 cup quinoa
4 baby artichokes
1/2 cup crumbled feta cheese
1 cup sliced black olives
2 tablespoons lemon juice
1/4 cup soy sauce
2 tablespoons extra-virgin olive oil
2 cups water
1/2 teaspoon crushed red pepper
1/2 teaspoon chilli powder
salt to taste
INSTRUCTIONS
Snap the leaves off the artichoke until only the tender and yellow inner leaves remain (it's easiest to use your fingers for this step).
Use a knife to trim off the green outer skin around the base of the artichoke, including the stem. Cut the tip of artichoke and remove the inside choke. Then cut the artichoke in half.
Note: As you trim the artichokes, rub the cut areas with lemon juice to prevent the artichokes from turning brown.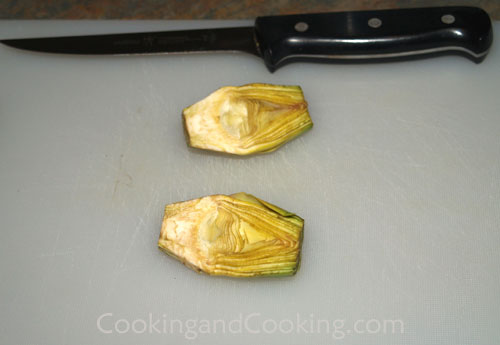 Heat the oil in a pot over medium heat. Add the artichoke hearts and fry until tender, about 7 minutes. Add the quinoa and 2 cups water.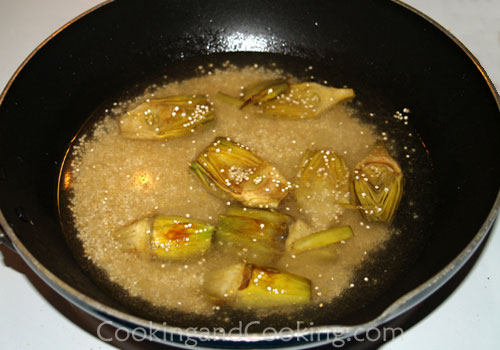 Cover the pot and bring to a boil. Reduce heat to low and simmer covered for 15-17 minutes, or until the quinoa is tender and the water has been absorbed. Remove from heat and let stand 5 minutes. Then fluff with a fork. Allow to cool to room temperature.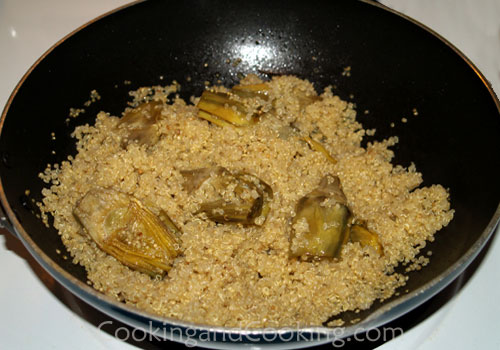 Add the black olives and mix well.
In a small bowl, whisk together the soy sauce, crushed red pepper, lemon juice and chilli powder. Pour over the quinoa mixture and toss. Taste and adjust seasonings. Transfer to a serving dish and sprinkle feta cheese over the salad. Serve at room temperature.
Note: Please do not use our photos without prior written permission. Thanks!

Print

You might also like these...
Stay In Touch